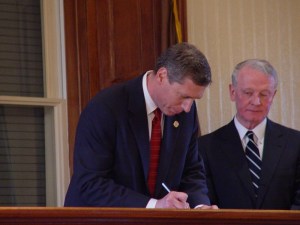 Outgoing state Sen. Leonard Lane (R-Clinton) is not willing to endorse a successor for his seat, but he is helping a candidate for one of the assembly seats that's going to open up in his legislative district.
Hunterdon County Freeholder Erik Peterson is likely to run for assembly, and Lance, who's moving up to the House of Representatives next month, is helping him plot his campaign.
"I am very interested, and I am currently working with my political mentor and friend, Leonard Lance, on preparing on making a formal announcement and kicking off my campaign for the seat," Peterson told PolitickerNJ.com today.
Assemblyman Michael Doherty (R-Washington Township) is leaving his assembly seat to run for Lance's state Senate seat. Assemblywoman Marcia Karrow is also running for the state senate seat in a special convention next month, but will run again for reelection if she does not prevail at the convention.
So far, only Warren County Freeholder John DiMaio has said that he is definitely running for assembly, but local insiders expect at least a couple other candidates to enter as well.
While Peterson has not formally declared his candidacy yet, he said he's "most likely" going to run.
And while Peterson's colleague, Freeholder Matt Holt, is also likely to run for the state senate seat, Peterson said that he's likely to remain neutral in that race.
Peterson was just reelected this month to his second term on the freeholder board. He said he will run on his record of balancing the county budget.
"I truly believe that the problems our state faces have to do with two main things. One is a lack of honest, accountable government. The other problem is that the state needs to learn to cut its budget so it can live within its means," he said.