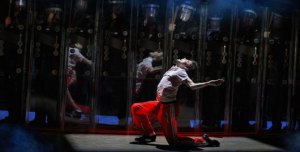 Billy Elliot is the best thing to happen to Broadway for a long while. The hit West End show about a working-class boy in a doomed North of England coal mining town who dreams of becoming a ballet dancer pulls off a remarkable trick: It's the first musical I've seen to successfully combine a huge dollop of sentiment with social fury.
The groundbreaking Tony Kushner-Jeanine Tesori musical Caroline, or Change (2004) had the fury, but—too bad for its chances of Broadway success—was too emotionally refined. Billy Elliot takes no prisoners. It's an unabashed tearjerker and a fairy tale, an unusual hybrid of stardust and coal dust. And it works remarkably well.
It shouldn't.
The story of Margaret Thatcher's brutal closure of Britain's state-owned coal industry in the 1980s is hardly customary Broadway fare. The British have a knack, however, for doting on heroic defeat. Another example of the defeatist—yet triumphant—genre is the lovely, sentimental film Brassed Off (1996), the story of a North England mining town fighting closure and the loss of its traditional brass band. The tragic fate of the country's proud miners who stood and fought Mrs. Thatcher chimes with the fabled Dunkirk spirit of an England that can turn devastating loss into moral victory. But in our troubled American times, a heartfelt tale of working folk fighting for survival rings true—particularly when it's performed as authentically as Billy Elliot.
Even so, the British show is accompanied by a Miners' Strike 101 printed in the Playbill just in case we can't understand the language. That's a first! "A pasty," we're solemnly informed, is "a popular British pie reputedly invented by Cornish tin miners' wives. Often filled with meat and potato." And you thought it was a teensy-weensy little rhinestone attachment to strippers' titties. Often worn in burlesque.
In fact, you quickly get a feel for the local Geordie patois—the common language that allegedly divides us is no problem at all. Or as young Billy puts it when asked why the miners have gone on strike, "Fooked if I know."
THE SHOW HAS a number of firsts for Broadway, and the coarse vitality of Lee Hall's book and lyrics is a source of unexpected delight. The language of Billy Elliot's rough working-class characters (including the kids) is rooted unusually in muscular, vulgar reality—not showbiz.
Here's Mr. Hall's "Solidarity," the North Country miners' chorus and a doggerel howl of protest at the riot police:
You think yer smart ya cockney shite
You wanna be suspicious
When you were on the picket line
We went and fucked yer missus