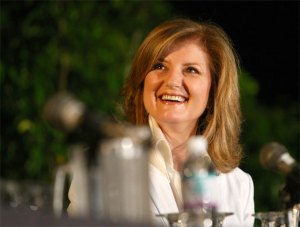 Fast Company has a feature on the The Most Influential Women in Web 2.0 in their November issue. Out of 13 women, two are New Yorkers: Blip.tv's co-founder and C.O.O. Dina Kaplan (who recently co-hosted the Silicon Alley 100 party), and Arianna Huffington, of course. It's common knowledge that tech is a boys' club and most of the women who get on the cover of Wired get there because they are "Internet famous" and have nice boobs. So (finally!) here's a shout-out to real innovators with vision for the Web.
This is what Fast Company says we can learn from Ms. Huffington:
What to learn from her: Don't always take a medium's so-called limitations at face value. In Huffington's able hand, blogs became primary news sources — not merely sources of commentary. And aim to conquer your doubts. "Fearlessness is not the absence of fear, it's the mastery of fear," she says. "Overcoming fear is, I think, the most important lesson in terms of achieving success."
As for Ms. Kaplan, who isn't often lovingly profiled in major magazines like Ms. Huffington:
What she's done: Kaplan is the co-founder and COO of blip.tv, a platform for producers to distribute original shows on the Web. Blip.tv was the initial platform for Wall Strip video blog, which was bought by CBS for $5 million last May. Under its model, producers don't need Nielsen to know how their audience feels—viewers of shows delivered via blip.tv can comment, favorite, and share content.
How she got there: A graduate of Wesleyan College with a degree in economics, government, philosophy and history, Kaplan worked a couple of jobs in the White House before landing a job as an Associate Producer for MTV news. She later went on to work as a TV reporter for NBC, before finally being recruited to join the team that started blip.tv.
What to learn from her: If you're trying to launch a new venture or just get noticed, Kaplan thinks the best thing you can do is just listen. "Listening is way more valuable than talking. When blip.tv first launched, we learned this the hard way. We got no users for the first month." When you do talk, "ask questions, ask what problem do you have that we could solve? What's missing?" This way you can find a viable niche and make your mark, or a void and fill it.
Some other New York ladies in the tech scene we appreciate? Sarah Chubb, president of CondeNet; Dawn Barber of the New York New Media Association, and Personal Democracy Forum; Esther Dyson, start-up investor, board chairwoman, and Huffington Post blogger; Daily Candy's Dany Levy; and Caroline McCarthy of CNet's The Social.