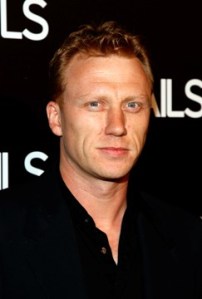 It's been a rough couple of weeks for Grey's Anatomy creator Shonda Rhimes. She had to fire actress Brooke Smith, setting off a hailstorm of criticism stemming from the fact that the actress was part of the show's first lesbian relationship with fellow actress Sara Ramirez. And while we still tend to believe Ms. Rhimes' original assertion, that Ms. Smith was shitcanned because her character wasn't working, the stigma that she was let go for playing a lesbian (and grossing out too many ABC executives) remains. Put it this way: when even Isaiah Washington, who was infamously fired after using a gay slur to describe co-star T.R. Knight, comes out and blasts the handling of the situation, you know you're in trouble. (To Mr. Washington's credit, he never blamed Ms. Rhimes, only the people who put her in such an awkward position.)
Well, Ms. Rhimes finally has some good news to report. Actor Kevin McKidd, who has appeared in four Grey's episodes thus far season and will show up again tomorrow night, has been added to the cast as a series regular. Woo hoo! We think this is great news for multiple reasons, not the least of which is that Mr. McKidd happens to be one of the only genuinely likeable characters left on Grey's. Whenever his former military doctor comes on screen we actually enjoy the show, which is a stark contrast to the loathing and anger we feel towards it when so many other characters appear (Sandra Oh, we're looking at you!).
However what we're most happy for is Mr. McKidd's return to series television. We were part of the select few who actually watched Journeyman last year, and while we can't say that show was very good–a half-baked rehash of Quantum Leap and The Twilight Zone–Mr. McKidd was a breakout star-in-waiting and consistently excellent in his time traveling role. The Scottish actor has an everyman charm that should help lead him towards a great career . Hopefully his stint on Grey's Anatomy doesn't ruin his good nature, or more importantly, our opinion of him (since it's all about us, obviously).
Meanwhile, from a show standpoint, with Mr. McKidd arriving full-time and Ms. Smith departing, Grey's has already moved up an entire notch on the likeability scale. It's now at notch one.