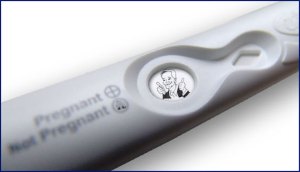 We were sad to hear that vile MTV couple Spencer Pratt and Heidi Montag will be ruining one of our favorite shows by making an appearance on How I Met Your Mother in January. But, while doing some research, we came across a website that cheered us up.
On last night's episode of How I Met Your Mother, Barney worried that he accidentally made one of his recent hook-ups into a mom. Barney, our favorite bro played with brilliance by Neil Patrick Harris, learns that he won't be a father, leading him to declare to his friend, Marshall, played by Jason Segel, "This is the happiest moment of my life, Marshall! The way I feel about not having kids, I never knew I could love something this much."
Inspired, he creates a new holiday: Not a Father's Day. According to his reasoning, "Why can't there be a day for people who are single and like it that way?" (Hey, Festivus started out as a joke once, too.) Barney then went on to plug notafathersday.com.
Behold, for all your Not a Father's Day needs, an actual Not Father's Day Web site (courtesy of the Fox Shop). The site has a simple, web 1.0 kind of design, lacking silly social networking, widgets, or links to a Flickr pages. This is all about simple service; A bro's bro site that calls to mind the very Web 1.0 concept of TV-Web convergence, which brought the world various Simpson-themed sites like Mr. X's Webpage, which was first mentioned on-air in an episode called "The Computer Wore Menace Shoes."
On notafathersday.com, you can send out a Not a Father's Day postcard or buy a Not a Father's Day mug for that special not-a-father in your life. There's also a list of possible "Not Fathers" including George Clooney, Dr. Seuss, and George Washington.
That last one comes with an asterisk clarifying, "although he was the father of our country."