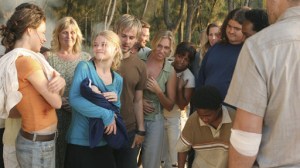 Unless you're planning on helping the Obama family unpack boxes at 1600 Pennsylvania Avenue, you probably don't have any current plans for Wednesday, January 21st, 2009. Well, allow us to change that! The fifth season of Lost will return to ABC's airwaves that night with a two-hour season premiere, starting at 9 p.m. A recap episode of the previous four seasons will air during the 8 p.m. hour, presumably so the network can plug the evening as a three-hour event, while simultaneously fooling our DVR into thinking the first hour is brand new content. Harrumph.
The decidedly normal announcement is in direct counter to last season's dramatics, when the WGA strike threatened to limit the fourth season of Lost to only eight episodes (eventually a total of fourteen aired). Free from that black cloud, Lost is planning on 17 new episodes in 2009, up from the original order of 16, in an effort to make up for the truncated fourth go-around. Having already watched teaser for the season five multiple times, consider us wildly, even psychotically, excited.
Additionally, Lost is returning to its original home on Wednesdays. This is especially good news because it means Thursday nights are no longer a gauntlet of television watching acrobatics (30 Rock, The Office, Grey's Anatomy, ER, CSI, Life on Mars), but it does call into question what ABC is planning to do with their sputtering Wednesday night lineup. As it stands, Lost will air at 9 p.m., meaning it will take the current time slot of Private Practice. The Kate Walsh soap has already received a full season order and also happens to be ABC's highest rated show on Wednesday nights. Private Practice could move to 8 p.m., replacing the viewer challenged Pushing Daisies, which still hasn't gotten a full season pickup, or, ABC can pair Private Practice with its parent show Grey's Anatomy on Thursdays. In the latter scenario, we expect the cancelation of the expensive-to-produce Life on Mars (all those 70s rock songs!). Either way, we anticipate ABC to making some kind of announcement regarding their winter schedule in the coming weeks.
Meanwhile, if you're like us, and you enjoy re-watching the previous season of Lost before the new one begins, season four hits DVD on December 9th. Can you say stocking-stuffer?