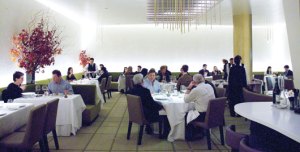 When Drew Nieporent opened Montrachet on these premises in 1985, he turned New Yorkers' idea of a fancy French restaurant on its head. The setting was a stark industrial space, with tin ceilings and overhanging pipes, in a desolate neighborhood of cast-iron buildings and scruffy warehouses. Instead of elderly French waiters in black tie, there was a young staff dressed entirely in black; the menu was in English, not French, and the wine list gave American vintages equal billing. The chef was an unknown named David Bouley.
Montrachet established a cool downtown style that has been widely imitated ever since. But by the summer of 2006, many of its customers felt that the restaurant had lost its edge. Mr. Nieporent, vague about his plans for renovations, quietly closed it down.         
Now it has reopened as Corton—named for another great Burgundy that none of us can afford.
The new look is one of understated elegance—chartreuse banquettes, sloping cream-colored walls delicately embossed with gold leaves and vines—with clean, spare lines. In the front, white wine bottles are stacked behind glass in refrigerated rows, and clusters of lights hang in straight poles from the ceiling, like modernistic icicles. Through a long, narrow window in the back of the dining room, you can catch a glimpse of the kitchen and the chef (and partner), Paul Liebrandt.
Mr. Liebrandt, who is British, worked with many big names—Marco Pierre White at his three-star restaurant in London; Raymond Blanc at Le Manoir Au Quat'Saisons in Oxford; and Pierre Gagnaire at his eponymous three-star Michelin restaurant in Paris—before coming to New York, where he has at times taken his diners on a wild ride.
I last had his food seven years ago, at Atlas, where he served bacon sorbet, rabbit with squid ink sauce and lentils, and shrimp soup with white chocolate. I appreciated the audacity, but I wasn't convinced. Nor, it appears, was the midtown business crowd at Gilt in the Vuillard House, where he cooked next.
CORTON IS another story. Mr. Liebrandt has moved beyond zany experiments with molecular gastronomy and the avant-garde, forging his own style. His cooking, while still adventurous, is rooted in traditional French cuisine. The meals I had at Corton were extraordinary, putting him in a realm with the city's greatest chefs.
There are two menus, a $76 three-course prix fixe and a tasting menu for $110. When you sit down, references to the classic and the new are made right away: puff pastry goujons filled with mornay sauce (classic), and soft checker-counter rounds of salty olive oil sponge bread (new). There are two butters—one plain and salted, the other made with seaweed—served with first-rate breads, and an amuse-bouche of a Beau Soleil oyster sprinkled with crunchy buckwheat.
After we had ordered our food, a waitress appeared holding a basket of pastel-colored eggs, looking like Little Red Riding Hood. "From Violet Hill Farm," she said winsomely. "For the sweetbreads."
A bit too winsome, perhaps, but wait until you try those amazing sweetbreads, caramelized with argan oil and pieces of smoked bacon, and topped with a melting egg yolk. (In southwestern Morocco, where the oil comes from, you can see the surreal image of goats perched on high branches of argan trees, cracking the nuts to get to the oil-rich seeds inside.)
There wasn't a single loser among all the dishes I tried at Corton, from the delicate scallops with saffron-colored uni cream and marcona almonds, to the melting cobia, which was slightly too salty one night, but still very good.
Mr. Liebrandt uses beets to add an earthy dimension to foie gras, which is wrapped in a paper-thin layer of hibiscus-beet borscht gelée. A beet sauce instead of the usual red wine reduction comes with the black angus filet, with fondant potatoes redolent of black truffle.