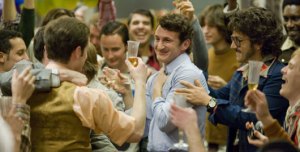 Milk
Running time 128 minutes
Written by Dustin Lance Black
Directed by Gus Van Sant
Starring Sean Penn, Josh Brolin, James Franco, Emile Hirsch, Alison Pill, Diego Luna, Victor Garber, Denis O'Hare
In real life, Harvey Milk was an unexceptional Jewish boy, as plain as a matzo, but with extraordinary courage, as challenging to homophobic society as a pierced nipple. Without much public egotism or personal glory, he was a late bloomer who, at 48, made history, first when he became the first gay-rights advocate elected to public office on the San Francisco Board of Supervisors in 1977, and the next year, when he was assassinated for it. On the 30th anniversary of his death, Gus Van Sant has made a sobering, reflective, respectful and responsible film about his turbulent life, titled Milk, with another chameleonlike performance by Sean Penn in the title role. It's a lengthy, engaging, information-packed tribute to an early activist who dedicated the last years of his life to gay rights before it was fashionable, and paid the ultimate price for his passion. Now the question is, how many people will care enough about that life and untimely death to make an impact at the box office?
The film begins with the Stonewall riots in June of 1969, when a strong odor of anarchy was blowing in the wind. The smell of adrenalin reached Milk, a bored, 40-year-old insurance salesman, amid actual newsreel footage of police crackdowns, dragging men out of gay bars in handcuffs. That was the year he got fired after burning his BankAmericard, and took a younger lover named Scott Smith (James Franco, in his best role since James Dean); they ran away together to California in search of new lives, new friends and new goals. By 1972, they had opened a camera shop, which doubled as headquarters for their own gay political organization that drew so many followers in San Francisco's six-block Castro District that even the cops were forced to acknowledge their power. Milk kept running for public office, losing every time while building a reputation that disenfranchised gays finally took seriously. Then along came the hatemongering, no-talent singer Anita Bryant, who inadvertently did more than anyone dreamed possible to galvanize the gay liberation movement. The film revisits the Dade County controversy that pitted human rights against legalized bigotry; Milk's alliance with the Teamsters; the replacement of Scott Smith, who deserted him as both a lover and a campaign manager; Scott's replacement by a lesbian (played by terrific New York stage sensation Alison Pill), who took Milk into bold new directions, like the endorsement that got a former senator, George Moscone (Victor Garber), elected the first gay-friendly mayor of San Francisco; and the groundswell that finally led to Milk's own election to the Board of Supervisors, along with an ex-fireman named Dan White (Josh Brolin), who first supported gay rights, then felt betrayed when his own initiatives failed. White turned from friend to opponent, his rage fueled by Anita Bryant and the California family-values senator, John Briggs (a colorful, supercilious performance etched in acid by the excellent Denis O'Hare). The political chronicle is so vast and chock-full of dates, agendas and newspaper headlines that the film is hard to keep up with. You long for more scenes like the occasional private moments when Sean Penn kisses James Franco. But they are few and far between. Even the dual murder of Milk and Mayor Moscone inside City Hall by the tortured Dan White comes after such an overcrowded dossier of politics that its potential shock value is curiously blunted and bloodless. The assassination of the Huey P. Long character in All the King's Men was more percussive.
In a slavish effort to get the facts straight about Milk the Messiah, director Van Sant loses his grip on Milk the Man. His goals were honorable—to ensure all men with inalienable rights and invest gays with pride, dignity and freedom. But while his public life, fighting marginalization and exclusion, was admirable, his private life lacked the dramatic edge necessary to make a viable, interesting movie. (Or at least the meticulously researched screenplay by Dustin Lance Black eschews the personal struggle for the architecture of gay politics.) Devoting his brief time in office to defeating Proposition 6 while simultaneously trying to placate a new neurotic, suicidal boyfriend (Diego Luna, from Y tu mamá también), Milk was undeniably stressed and obsessed. It would be interesting to see how he dealt with life in the quieter moments. I guess if I have one caveat, it is simply that while Harvey Milk (according to this movie) did a lot of good helping lost boys discover their own flagging sense of worth, his own life was not crowded with much breadth or quality of experience. Without a great personal story to reveal, the film relies too much on external details and not enough on personal conflicts. It's a life with no arc, and it doesn't play out with much drama. Don't misunderstand. From the liberalism of a deserving martyr to the 30,000 mourners of all persuasions who filled the streets, peacefully carrying lighted candles to honor him, Van Sant paints a huge canvas of a time and place that changed the way we see the world we live in, and films it all on actual locations. It's very impressive, and so much inspired work must not go unrewarded. You won't see more superior ensemble acting this year. Sean Penn is soft and feathery as swan's-down. Milk is an undeniable don't-miss; it's still uncertain if it's also a can't-forget.
An earlier version of this article misstated the date of Judy Garland's death and the year of the Stonewall riots.