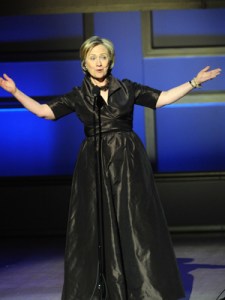 If you are bewildered by the labyrinth of a public storyline about Hillary Clinton's potentialpossiblemaybe appointment to serve as Barack Obama's secretary of state, you're not alone.
Apparently, most people in Hillaryland have no clue what's going on either.
A former adviser to Hillary, speaking on background, told me of receiving calls in the last couple of days from people close to the Clintons claiming that Hillary's acceptance of Obama's secretary of state offer was "a done deal," that Hillary had been offered the job but was sure to decline it and that the job had actually never been offered at all. These contradictory accounts, the former adviser said, were made with "absolute authority."
All of the drama had prompted a good deal of frustration even among people loyal to Hillary, said the source, resulting in a sentiment that, in the estimation of the former adviser, boiled down to: "What the fuck?"
Seemingly all of the information leaked to the press since the news of the Clinton and Obama tête-à-tête in Chicago broke has come from former Clinton advisers or people close to the former first lady, or people close to the Clintons or a source familiar with the Clintons' thinking or Democrats familiar with the deliberations. There has been a noticeable absence of Obama sources.
This former adviser I spoke to chose to believe that there was in fact no coordinated, purpose-driven effort by the Clintons to spin Hillary into the secretary of state job by boxing Obama into a position where he was forced to offer her the job, even if they had only discussed it. Instead, the source suspected that other former advisers thought they were in the loop but weren't, a phenomenon prevalent in a Clinton universe where people are not fired as much as layered over.
The result, the source said, is that people think their information is fresh even when it's old.
The source regretted that all the attention to the process of the apparent negotiations was a distraction from the more relevant fact that she might actually be pretty good at the job.