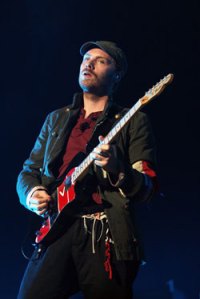 Coldplay, that quartet of droopy-eyed, arena-filling balladeers, may not be around after the end of next year. "I'm 31 now and I don't think that bands should keep going past 33," lead singer Chris Martin told the Daily Express this month, which led to rampant breakup rumors, which in turn led to The New Yorker's wondrous and normally non-curmudgeonly music writer Sasha Frere-Jones to write, "As if Obama winning wasn't enough good news."
If Coldplay does die off, and Mr. Martin retreats with wife Gwyneth Paltrow to raise their funny-named offspring in, say, some Nordic cabin, New York City may be hosting the band's lead guitarist. According to public records, Jonny Buckland, also 31, just paid $3.4 million for a 2,100-square-foot, two-bedroom condominium at 21 Astor Place.
No mortgages were filed, so it appears he paid in cash.
A listing with Sotheby's broker Torsten Krines says the place has exposed brick, 14-foot ceilings, extra-wide oak wood floors, an open kitchen, a massively elongated foyer ("perfect for showcasing your art collection"), sound-proof bedroom windows and, of course, "custom tailored large closet space."
"It's very dramatic," Mr. Krines said this week. "It has the wow effect when you come in." (The broker is from Munich and has a wonderful accent.) "I mean, you can always do more upgrades, but it was in very good shape. Everything was in peak condition." But Mr. Buckland may have to do some painting: Marketing photographs show one room done in nearly all pink, even decorated with pink stuffed animals.
News of the sale was first reported on The Observer's Web site.
mabelson@observer.com