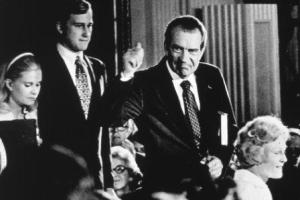 George W. Bush's job approval ratings among New Jersey voters is at the lowest point in his presidency. A new Quinnipiac University poll has Bush at an upside-down 18%-78%, worse than his 22%-75% numbers in a June poll. Bush is now upside-down among Republicans, 45%-48%. And in heavily Republican northwestern New Jersey, which includes Morris, Hunterdon, Somerset, Sussex and Warren counties, the 43rd president is at an upside-down 24%-71%. Among African Americans, Bush's positive job approval does not register; his negative is at 95%.
In New Jersey, Bush is now less popular than Richard Nixon was three months before his 1974 resignation. An Eagleton-Rutgers poll had Nixon's job approval at 19%-76%.
President-elect Barack Obama has a 64%-21% favorable rating in New Jersey.