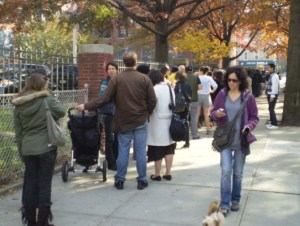 A whopping 248 voters — plus children and at least seven baby stollers — waited in a U-shaped line, stretching from the Fourth Street entrance to PS 51, continuing down the entire block of Fifth Avenue, to a spot halfway around Fifth Street when I arrived at the Park Slope polling place at precisely 7:54 a.m. on Tuesday morning.
It's a neighborhood that eats, drinks and breathes "hope" and "change," from the Obama cookies at Trois Pommes to the temporary Obama phone bank inside the Brooklyn Lyceum. Thus, all the Obama buttons, T-shirts and other paraphernalia along the lengthy line–and only one guy in a McCain cap. (He conservatively declined comment.)
It would take exactly one hour and 28 minutes for this reporter to finally pull the lever.
Across Fifth Avenue, an elderly man dressed either as a monk or the evil Gargamel character from the "Smurfs" cartoon series hobbled up the sidewalk with the assistance of a cane at a faster clip.
"Support your PTA," shouted a woman stationed behind a table of various baked goods upon my triumphant entry into the school at 8:35 a.m. "Donuts, coffee, cake–everything $1!"
Inside the school's gymnasium–more lines, criss-crossing every which way to various individual election districts. The minutes slowly ticked by.
Neighborhood jewelry designer Imaan Selim, co-owner of the eclectic Urban Alchemist boutique on nearby Fifth Street, lined up for district No. 43 shortly before 9 a.m., anxious to move on to the evening's festivities. "My friend Andrew is coming over later to cook Indonesian curry in honor of Obama," she said.
Outside, the line had grown even larger–a total of 324 persons between the door and back of the queue at 9:22 a.m.
"How long is the wait?" asked voter No. 324 as I finished counting. "An hour and half! Not too bad."
Across the street, the usually daunting line stretching out the door of Bagel World seemed quite reasonable by comparison.
"So, I can't vote yet because the line's wrapped around the block," complained a woman on her cellphone, as oldies played in the background inside the corner bagel shop. A muted TV above the cold-beverage case was tuned to the election coverage on CNN.
"I voted early," boasted retired 76-year-old Park Slope resident John Nicholas, waiting his turn to buy coffee and a bag of bagels. "I came around seven o'clock," he said. "By 7:30, I was out."
Mr. Nicholas said that he, too, had voted for Senator Obama. "Not that there's anything wrong with McCain, but it's the same ol' bullshit," he said.
Back at PS 51, after 10 a.m., the line of voters appeared even longer than before–much to the delight of at least one Obama supporter.
"I was so touched when I saw the line–it made me feel good about my neighbors," said nearby resident Christy Newman, the charming wife of A.C. Newman, frontman for the popular rock group New Pornographers.
"There were helicopters filming the lines in Park Slope for NY1," Ms. Newman noted.
The couple had just returned to Brooklyn from a tour overseas. "New Zealand, Australia–everybody's like, 'Please tell me you're voting for Obama,'" Ms. Newman said. "It's worldwide news."
Mr. Newman, a Canadian citizen, was unable to vote on Tuesday. "He's super bummed," Ms. Newman said, nearly rounding the lengthly line's first corner at 10:23 a.m.
Still a long ways to go. "I have granola bars, I have things to do on my Blackberry," she said. "I came prepared."