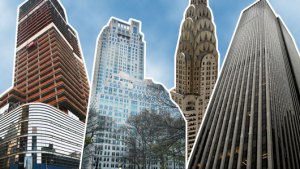 Special Feature: Very Important Properties! The 28 emblematic buildings and developments of '08, including the GM Building, The Plaza, 111 CPN, Atlantic Yards, Coney Island, Fubar, Trump SoHo and the World Trade Center site.
A couple splits their Gold Coast duplex to move at least one floor faster.
A bruised investor closes on a Tribeca condo for $22 million.
The city's hotel union flexes its political muscle, eyes West Side rail yards.
New York firms move to service distressed property owners.
Will debt doom the South Street Seaport redevelopment?
Why it's not time to worry about Manhattan's sublease-able office space.