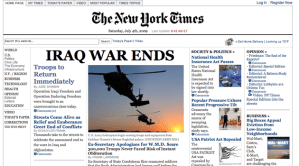 Finally, the morning paper brings some good news. The paper of record appears to be reporting that the war in Iraq has ended and that Troops to Return Immediately. Also, Labor Dept. Launches Job Creation Program. And Court Indicts Bush on High Treason Charge.
More locally, New York Bike Path System Expanded Dramatically.
As Gawker's Hamilton Nolan has pointed out, these headlines are not from The New York Times, but a parody issue distributed throughout New York City this morning. The close—but typographically errant—facsimile of The Times is apparently the work of The Yes Men, a Yippie!-ish collective of media and political pranksters featured in a 2003 documentary.
The fake Times, which is full of ads for Halliburton subsidiary KBR, ExxonMobil, and weirdly, subway staple Jonathan Zizmor, M.D., purports to be from July 4, 2009. When Media Mob was handed a copy on Broadway and 18th and asked the guy in a New York Times apron to explain its provenance, he said in a puckish French accent, "I don't know."
Of course, this isn't the first fake paper to hit the streets. See: Off The Wall Street Journal (and April's redux) and SPY's 1992 Democratic National Convention parody of The New York Times.