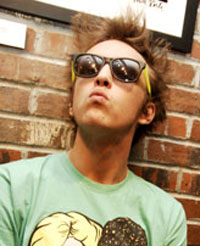 As we learned from the Village Voice's Michael Musto, Liam McMullan, whom The Observer's Spencer Morgan profiled in June, will be replacing Lydia Hearst as a columnist for Page Six Magazine. We gave Mr. McMullan, son of nightlife photographer Patrick McMullan, a call to find out what we could expect from the weekly dispatch, the first installment of which—a chronicle of his Halloween activities featuring a stop at the Accompanied Literary Society's masquerade—has already been filed.
"It's going to be more about what I see than what I do," he said. "Anyone who thinks I'm even the least bit entertaining, the least bit interesting, I'll give them a little more insight into how I feel about things."
We wondered if he'd sought advice from his godfather, Mr. Musto, who has built a career on this sort of thing: "Not really. He has faith that I can do it." And his father? "Somewhat" he told us, before explaining that "Everybody tells me they wanted to read it before, but I had to turn it in for [today]."
Was it safe to say that his contributions would be a bit more authentic than those of his predecessor, Ms. Hearst? "It's definitely all me," he assured us.
He added that he also saw the column as an opportunity to combat peoples' tendency to "misconstrue" his words: "I feel like when I'm the only one writing, it's not like 'Telephone'… It's just my words, even if it's not the most eloquent thing I've ever said."
Mr. McMullan, like many of his fellow scene-makers, says that the party circuit was largely unaffected by the recent financial crisis: "People who don't work and don't do nine-to-five jobs and don't take any consideration about the world are, generally speaking, still going out. People who went out during the weekdays and weeknights are still going out."