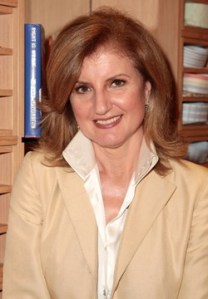 Fast Company recently named Arianna Huffington one of the most influential women in Web 2.0. But might she be hogging the spotlight from other opinionated ladies?
That's what Jessica Wakeman, a former associate blog editor at the Huffington Post, claims in the national media watchgroup FAIR's November/December issue of Extra!. In her article, "Huffington Post Mutes Women's Voices," she noted an Extra! study that found out of the 13 featured blog posts on the Huffington Post home page, only one-fourth of them are usually written by women. Ms. Wakeman hasn't written about "women's political, societal and cultural issues" for the Huffington Post since April. Hmm …
For the study, Extra! counted featured bylines twice every weekday for nine weeks between July 7 and Sept. 5 this summer and only 255 of 1,125 bylines belonged to women.
"Half of the smartest minds in our nation are female," Catherine Orenstein, founder of the Op-Ed Project, which trains women to write and pitch op-eds, told Extra!. And that need for parity includes online media, she said: "Just as it matters in old media, it matters in new media, too." She added, "What's interesting is the Huffington Post is Arianna—a prominent woman, a political and economic powerhouse."
Certainly, it's not news that women have a hard time getting their opinion pieces in newspapers and on television, despite popular personalities like Rachel Maddow and Laura Ingraham.
Lots of women write for the Huffington Post and some of them are editors. But do they get featured enough?
Jennifer L. Pozner, founder of the advocacy group Women In Media & News (and FAIR's former Women's Desk director), told Extra!
[W]omen's posts—plentiful in various sections of the site—rarely make it past the editorial gatekeepers who decide which posts get "featured," steering readers primarily to male bloggers. We need to hold media outlets accountable for gender and racial imbalances in the editorial process that governs which submissions get published and rejected—and for actively soliciting material far more often from white men than women and people of color.
The Huffington Post was asked for a reaction to the study; spokesperson Mario Ruiz sent a statement:
"The Huffington Post provides a powerful platform for a diverse group of individuals and opinions. At any given moment we feature the best available content, regardless of gender."