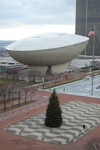 ALBANY—It seemed the only people working at the Capitol on Black Friday were crews from the Office of General Services stringing lights around the state's official holiday tree.
According to a press release, the tree is a 30-foot blue donated by Arlene Blasen of Latham. The lights are LEDs which use less electricity than normal.
The Tree will be lit formally on December 7.