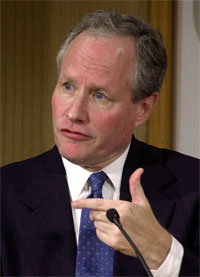 Earlier today, William Kristol was sitting alone by the entrance of Michael's checking his Blackberry. Mr. Kristol was there at the behest of the Independent Film Channel to participate in a panel discussion moderated by Arianna Huffington (and featuring Pete Hamill, Chrisopher Buckley, and Mr. Kristol) to help promote The IFC Media Project, a show which aims to take viewers "behind the news," hosted by former MTV Newsman Gideon Yago.
The room was quickly filling up with eager young journalists, spiral notepads blank and at the ready, digital recorders checked once, twice, and stomachs empty and open. (The invitation called for noon-2:30 p.m. and specified "Lunch will be served." With Time's Person of the Year luncheon last week and Tina Brown and Barry Diller's The Daily Beast celebrating its first 1,000 hours in the Meatpacking District tonight, a semi-employed journalist can at least still get a decent meal in this town.)
Asked what he'd be talking about, Mr. Kristol smiled. "I don't know. I'll answer whatever questions they ask." When asked if the panel's organizers had offered him any specific parameters, he shrugged. "Media? New media?"
Mr. Kristol explained his take on new media, "I'm friendly to it… I'm sort of a defender of the internet, basically. And the blogosphere." Mr. Kristol, who writes a weekly column for The New York Times, edits The Weekly Standard (owned by Rupert Murdoch), and appears frequently as a guest on cable news programs and Sunday morning current events shows, continued, "I'm not such a fan of the mainstream media." Standing a few feet away at Michael's—which The Observer's Chris Shott noted in October is almost always filled with "various media professionals"—was Arianna Huffington (who'd hosted THe Rachel Maddow Show on MSNBC last night) surrounded by a small crowd.
A lot of people have been talking about Mr. Kristol's Times column lately. Ms. Huffington's own Web site featured a piece earlier this month by Nora Ephron headlined Thinking About Bill, in which she wrote:
People like me sometimes wonder what it would be like to be involved in mistakes that end up killing people; we wonder about sleepless nights and remorse and guilt. Bill Kristol exists to remind us that these are pathetic liberal fantasies, and that some people are never sorry. Only last week I saw Kristol on television continuing to defend Sarah Palin: she was a bright woman, he was saying, who'd simply been mismanaged by the McCain campaign.
That same week, Newser's Michael Wolff wrote, "The Times, which hired Kristol opportunistically when it thought it could get some advantage from a party line conservative (and when it was trying to defend itself from Fox News' attacks), is surely looking at his contract terms," which prompted Portfolio's Mixed Media blogger Jeff Bercovici to post a poll asking With whom should the Times replace Bill Kristol?.
Did the criticism hurt his feeling? "A lot of people have been very nice about my columns. I dunno."
Was his contract with The Times going to be renewed? "I dunno. You gotta talk to them about that. It's been a lot of work and I'm kinda stretched a little thin. I'll see." (A call to The New York Times' Editorial Page editor Andrew Rosenthal has not yet been returned.) "You guys are all—well, I don't know you—but everyone's obsessed with this internal New York Times…" Mr. Kristol stopped himself short.
"I've had zero problems, issues… It's been low drama. Despite all the dramatics in the blogosphere it's been a very undramatic experience for me."
His life in Op-Ed may be mellow, but what did Mr. Kristol think of the recent story by The Times' Elisabeth Bumiller, Internal Battles Divided McCain and Palin Camps, in which Mr. Kristol—a vehement defender of Ms. Palin (he told colleague Maureen Dowd the Governor "was like Andrew Jackson"!)—appeared as a possible recipient of intra-McCain-Palin camp leaks?
"It was a little weird," Mr. Kristol conceded. "Look, they called and I said I don't wanna talk about it. But they said, 'Look, some of the McCain people said you were the recipient of these leaks so you need to address it.' I addressed it. It's fine. You can't help it if you're part of the story. I didn't try to get in it. But you gotta answer a question for a reporter." (Media Mob couldn't disagree at the moment.)
Did he feel his own paper had thrown him under the bus? "You know how that works. I don't think Elisabeth Bumiller coordinates—I know she doesn't—with Andy Rosenthal, so I mean, she's reporting the story and someone says [Randy] Scheunemann was leaking to Kristol—god forbid. As if anyone on a campaign shouldn't talk to a columnist or a reporter."
"Or to a friend," Mr. Kristol added.
Speaking of friends, Mr. Kristol said he'd seen the Jacksonian Governor Palin at last week's Republican Governor's Association conference in Florida (the subject of his latest Times column) and he wanted to clarify something. "I met her for the second time in my life. I know we're supposed to be such great friends, but the truth is I've met her twice… I've spoken to her on the phone once. For all our great closeness"—perhaps Mr. Kristol was referring to Jane Mayer's report in The New Yorker about his and other Standard editors' visit to the Alaska Governor in June 2007— "I barely know her."
Did Governor Palin—who famously told CBS News' Katie Couric she reads "a vast variety of sources"—read his columns about her? "She didn't say one way or the other. We had a casual, social conversation."
Did the Governor at least thank him for being one of her biggest defenders? "It's not a matter of 'thanks.'" Mr. Kristol said. "I just called it the way I saw it."
"She just, I guess…" He trailed off for a moment. "She didn't say one thing one way or the other, honestly."