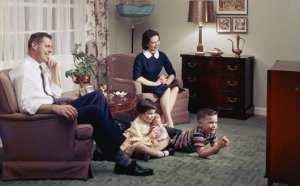 Fred Wilson watches television in a modern living room, but it probably isn't quite like yours. Call it living room 2.0. As managing partner of Union Square Ventures—which invests in budding tech start-ups like Twitter, Tumblr and 10gen—he often brings the latest gadgets and social networking whats-its into his West Village home. He says his big "'aha' moment" came last year, when he plugged his Mac Mini, Apple's tiny desktop computer drive that's about half the size of a toaster, into his 60-inch television display. Suddenly the Internet, the whole World Wide Web, was in his living room.
"Slowly but surely, our family started using the Mac Mini instead of the cable set-top box and the DVD player," he wrote on his company's blog last week. His son watches YouTube videos with his friends; his wife catches up on Saturday Night Live skits via Hulu; his whole family listens to music on iTunes and online services like last.fm. When they're not watching videos, the TV displays a slideshow of digitized family photos, stored on a server in the basement.
"Many think that streaming video is not ready for 'prime time' on a big screen in a family room," he continued in his blog post, "but I can tell you definitively that is not true."
Mr. Wilson's hi-tech living room might sound fairly state of the art, but it's actually already in need of an upgrade. The Mac Mini's user interface is clunky and the software doesn't integrate the family's favorite streaming services. Sometimes one of his three kids have to pull out a keyboard and open a browser window to search for what they want. In other words, sometimes it seems like they've traded the remote control for a rat's nest of wires and hardware in their living room. Of course there are more elegant devices like Apple TV and Microsoft's Xbox-powered Media Center that also bring the Internet to the TV set, but they'll cost you. Want to watch The Daily Show With Jon Stewart on Apple TV? You'll fork over $1.99 and be required to use an Apple platform, like iTunes, instead of another (free!) service like Hulu.
So, in the battle to bring the Web into the living room, Mr. Wilson saw an opportunity for an underdog. And that's where Boxee comes in.
Boxee, which is not actually a physical box, is a software program that you can download for free onto your computer. It searches all of your connected devices, from your hard drive to your iPod, scoops up photos, music and videos, and then organizes them into an elegant interface that you can view on your television. Want to look at snaps from your last vacation? Put 'em on the widescreen. Or watch CNN, streaming from the channel's Web site. It's all there.
Boxee can also offer reviews, cast listings, trailers and summaries—no need for an extra laptop open to IMDB to figure out why that new Heroes character looks so familiar! It also allows users to recommend movies or other media to fellow Boxee-ians or send out Twitter posts about what they've been watching. Want to throw a karaoke party in your living room by streaming your mp3s and queuing lyrics that Boxee finds for you on the Internet? Go for it! Need to play home movies on the TV in lieu of post-Thanksgiving dinner conversation? Boxee can handle that, too.
And Boxee is not only social, it's open source. Independent developers can build applications, just like on Firefox, Facebook or the iPhone, to tailor the software to user needs. Profits will come from partnerships with networks and services like Netflix. Boxee can make your TV whatever you want it to be—and it's free!
THIS SPRING, Mr. Wilson, 47, downloaded a very early version of Boxee onto his Mac Mini. "My kids saw and it and they said, 'Wow, this is really great,'" Mr. Wilson explained in his 14th-floor office at Broadway and 21st Street on a recent workday afternoon. "That's when I got the first sense that Boxee was onto something." At his desk, Mr. Wilson fired up this personal page at boxee.tv and showed me what's been going on at his house. He watched Finding Forrester on Hulu that past weekend. He also listened to Belle & Sebastian that morning. I could see inside his living room 2.0.
On Nov. 18, Mr. Wilson announced on Union Square Ventures' blog that the company was investing in Boxee, together with Boston-based funding firm Spark Capital, to the tune of $4 million.
Boxee is currently in "alpha," which means it's in the testing stage and there's still lots of work to do. Right now, it lacks an easy search function to find specific shows or artists. You can't use it with a remote control (unless you buy one that comes with an Apple TV or Mac Mini). The interface has some navigability issues. But Boxee's creator, Avner Ronen, knows all this.
Mr. Ronen, 33, lives in New Jersey with his wife, Maskit, and three children. He first moved to New York about a decade ago from Israel, where he was an engineer who developed the first internal Web network for the Israel Defense Force. He brought his start-up company, Odigo, an instant messaging service, with him to the city. In 2002, the company was sold for $20 million to Comverse Technology, but was later shut down in 2004.
I visited Mr. Ronen at his Soho office on a Thursday afternoon, and interrupted him from a phone call with a Boxee client; just one of the 100,000 "alpha" users who are continually sending complaints, demands and praise to him through email, Twitter and even videoconferencing services like Skype. His office walls are sparse. So is his desk, except for an unsolved Rubick's cube; he shuffled it away when I arrived.