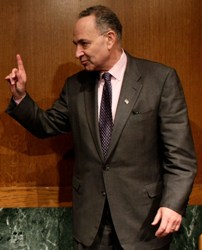 WASHINGTON – Senator Chuck Schumer will exit the Democratic Senatorial Campaign Committee after two cycles as the chief of the campaign arm, Schumer's office confirmed Monday afternoon.
The Associated Press reported today that Schumer would be leaving the DSCC, with the second-term Senator telling the wire service that he's had "a great run" at the committee.
New Jersey Senator Robert Menendez, currently the vice chairman of the DSCC, is widely seen as Schumer's likely replacement, though spokesmen for Schumer and Menendez declined to comment. A spokesman for Senate Majority Leader Harry Reid, who is now charged with choosing Schumer's successor, also declined to comment.
Schumer has said that he plans to remain at the DSCC until outstanding races in Minnesota and Georgia reach their conclusion.
"All I'm saying is, I'm not jumping at the future. I'm staying in to handle the [outstanding] races, and then we'll decide what to do," Schumer told a group of reporters who were chasing him through the U.S. Capitol Building last week.
As chairman of the DSCC, Schumer led Democrats to pickups of at least 13 seats over the last four years. Democrats are two seats shy of a filibuster-proof 60 seat majority.