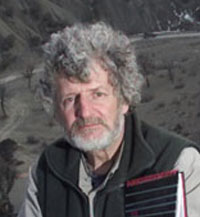 Even though the election and economic crisis have pushed the Iraq war off the front—or even the first dozen—pages of newspapers, the December 2008 issue of Vanity Fair features an article by Seth Mnookin in which he reports on life inside The New York Times' Baghdad bureau. The story is not yet online, but it's full of interesting points, including details of "internecine warfare that once wracked the bureau." Update: November 4, 2008: Here it is: The New York Times's Lonely War.
According to Mr. Mnookin, maintaining a presence in Iraq costs The Times "upwards of $3 million a year." He goes on to quote Times executive editor Bill Keller as saying:
'You can't cover a story only when interest peaks… You have to walk the beat all the time. This is so integral to what readers expect in The New York Times that if we stopped covering the war in Iraq, we should just go out of business.'
As for that internecine warfare, Mr. Mnookin quotes photographer Ashley Gilbertson saying that in the early days of the war, "It was Iraqi and American politics by day and New York Times politics at night."
One example (among many) Mr. Mnookin recounts is the conflict between John Burns and James Glanz, which:
[C]ame to a head in the days after Saddam was executed on December 30, 2006. Burns was in England on leave when, he said, he got a call from George Casey then the commanding general in Iraq, who told him, 'I think you should be back in Baghdad.' 'I wanted to be there because I was the one who had written about Saddam Hussein more than anybody else,' Burns said. Glanz, who already knew he was slated to take over the bureau whenever Burns was finally persuaded to leave, was furious, and the two got into a screaming match in the bureau's kitchen that Times staffers still talk about with a kind of bewildered awe.
Just last week, The Times sent out a memo announcing that Mr. Glanz was appointed to the paper's Investigations desk.
In June, The Observer spoke to several reporters from The Times and other news organizations about life during wartime. (And in 2007, Politico's Michael Calderone, then of The Observer, wrote about Messrs. Burns and Glanz.)
Also, this week in The Times' Play Magazine, Dexter Filkins talks about how watching and listening to football got him through his Iraq experience, which Mr. Mnookin describes in Vanity Fair as a "collection of close calls [that] sounds like a horror-film montage."