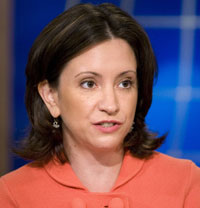 Anne Kornblut, who covered the presidential election for The Washington Post and will soon be reporting for the paper on the Obama White House, will write a book called Rejection: Why America Isn't Ready for A Woman President for the Crown imprint of Random House.
The book was acquired for a sum in the mid-six figures by editor Sean Desmond in a deal that was brokered by the Endeavor Talent Agency's Richard Abate.
Ms. Kornblut's is the first of what is sure to be many post-election books, a category that is so far known to include titles from Newsweek, Media Matters' Eric Boehlert, Mark Halperin and John Heilemann, and Ms. Kornblut's Post colleagues Haynes Johnson and Dan Balz.