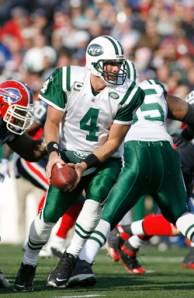 With eight games gone by and half the NFL season now complete, the New York Jets, whose season teetered so precariously on the precipice of doom not two short weeks ago, now enjoy a distinction that they haven't known this late in any season since 2002: first place.
After a spate of curiously underwhelming performances against an assemblage of league doormats including the Bengals, Raiders and Chiefs, the Jets turned in their best, most complete performance of this 2008 season, defeating the division-leading Bills 26-17 at Orchard Park and securing a three-way tie atop the division along with the Bills and Patriots, who fell to 5-3 by virtue of an Adam Vinitieri field goal that propelled the wounded Colts to an 18-15 victory last night in Indianapolis.
Combining solid but unspectacular efforts on offense, defense and special teams, the Jets manufactured a performance remarkable chiefly for being unremarkable. There was no aerial assault, no gashing running game, and no impenetrable defense. There were no heroes and no goats; no large leads from the outset and no steep deficits to overcome. Gone was their seemingly schizophrenic alternation between the pinnacle of brilliance and the lowest depths of ineptitude. Instead there was a measured and methodical performance more in keeping with the lofty expectations initially sparked by an off-season spending spree and further stoked by the acquisition of Favre this August.
Faced both with a talented, front-running opponent and a notoriously hostile crowd, the Jets played more like smug, self-assured favorites than the timid, half-hearted bunch we had seen too often over the course of the first seven games. And if there is such a thing as a blueprint for defeating a significant favorite in its own building, this was it.
On the opening play of the game and amid the strains of 70,000 bloodthirsty onlookers, the Jets capitalized on an overaggressive Bills defense by calling a screen pass to Leon Washington, who, in a manner becoming increasingly familiar, combined quick acceleration with an array of dazzling juke moves en route to a 40-yard gain. The crowd fell suddenly silent, and the Jets soon owned a 3-0 lead courtesy of a 37-yard Jay Feely field goal. After the very first drive of the game, the Jets had already accomplished a virtual prerequisite to this kind of victory; they had neutralized the crowd and thereby stripped the Bills of one of the primary factors in the home-field calculus.
Second, and perhaps for the first time under the Mangini-Tannenbaum regime, the Jets manhandled their opponents on both sides of the ball. The defensive line, led by de facto team MVP Kris Jenkins, was dominant in terms of both pass rush and run defense. Without injured inside linebacker David Harris for support, the defensive line turned in a virtuoso performance that often began and ended in the Bills' backfield. They were able to apply consistent pressure to Bills quarterback and incipient Jet-killer Trent Edwards throughout the game, forcing key incompletions and limiting Edwards's opportunities to hookup with star wide receiver Lee Evans. Meanwhile, second-year running back and former first-round draft-choice Marshawn Lynch, who had torched a porous Jets front seven only a year ago, was stopped cold, totaling just 16 yards on 9 carries.
For its part, the Jets' offensive line, by turn ballyhooed for its collection of high draft choices and maligned for its uneven and underwhelming play throughout the first half of this season, showed the first glimpses of cohesion by putting on a balanced and consistent performance that saw Thomas Jones average better than five yards a carry and, more importantly, held an opponent sackless for the first time this season.
Third, the Jets secondary, beset for some time with a revolving door at strong safety and inexperience at one cornerback, played its best game thus far, repeatedly converting opportunities into points. Whereas past weeks saw a veritable season's worth of would-be interceptions that slid off the fingertips and forced fumbles that somehow found their way back into their opponent's grasp, yesterday saw a notably opportunistic team.
It began on the Bills' second drive of the game and after they had responded to the Jets' early surge by moving quickly down the field, scoring a touchdown, and capturing a 7-3 lead. On first and 10 from his own 15, Trent Edwards dropped back to pass but missed a streaking cornerback Darelle Revis, who, set free on a rare cornerback blitz, caught Edwards unawares, blasting him from behind, jarring the football loose, and thereafter recovering it at the Bills six-yard line. The Jets would manage another three points and narrow the lead to 7-6.