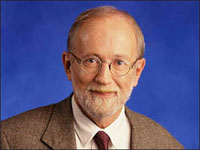 When I heard this afternoon that the great culture critic John Leonard had passed away at the age of 69, I was reminded again of some small but significant exchanges I had with him seven years ago, when I was the assistant literary editor of The Nation.
I was 26, had barely published anything, let alone a piece of criticism that could be considered "serious." I was a somewhat newly affirmed, politicized feminist, and deep in a phase of reading every book by Kate Millett I could get my hands on in preparation for reviewing her book Mother Millett, about caring for her aged mother. John would come by the office sometimes—he was still The Nation's lead book critic then—and sit in one of the two offices where you could smoke, and crank out the end of whatever huge review he was doing: about Rimbaud, or Bill Ayers, or Isaac Babel. He always came by my desk to say hello which, when you are the lowest person on a totem pole, is the kind of thing you really appreciate.
The week my review appeared, John was in the office for some reason or another. After making the rounds, he came by my desk, and leaned on the top of the short wall of my cubicle. I wish I could remember the precise kind words he said about my review, but they were overshadowed by this: "You should write for the magazine more."
When John had edited the Nation's books section, with his wife Sue, from 1995-1998, it was a haven for young writers: New Yorker editor Emily Eakin, New York Times film critic A.O. Scott, London Review of Books editor Adam Shatz (who also edited The Nation books section for a time) were all published by John Leonard. He was a rare champion of the untested and new; he encouraged where others might have scoffed.
A few months after my Kate Millett piece, emboldened by John's words of encouragement, I wrote a review of Jennifer Egan's novel Look at Me for our Fall Books issue. I loved the book, though momentarily doubted myself a bit when I saw that other reviews were mixed. Did I see something that wasn't there? John, who was on the selection committee for the National Book Award that year, told me that he had fought for that book to be on the list of finalists. He prevailed, and the book was nominated, though it didn't win. (Jonathan Franzen's The Corrections did.) He told me that he thought it was one of the most interesting and moving novels he'd read in a while, affirming what I'd thought which, again, stuck with me.
The next time he came by the office he brought me a copy of his book, Lonesome Rangers, which had just come out from The New Press. He signed it, "With admiration, John." He was a wonderful writer, and a wonderful man.