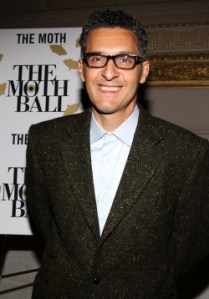 At the Moth Ball on Tuesday, Nov. 18, Salman Rushdie was awarded the 2008 Moth Award for his storytelling abilities and everyone wore silly hats in the tradition of the whimsical literary organization. But the cocktail chatter centered around the question of: Was she or wasn't she? 
"Well, has she been yet?" Mr. Rushdie asked when the Daily Transom inquired what he thought about Barack Obama offering the Secretary of State job to Hillary Clinton. "I have no idea. But I think it's very interesting that he's looking for ways to involve his former rivals and create that kind of unity. In that sense, it's good. But until I know it's real, I can't really say."
Author and radio host Garrison Keillor, wearing a pair of ruby red sneakers with his suit, was also not convinced that the offer had, in fact, been made. 
"Has she been asked? I don't understand it so I'll just have to wait to hear," he said. "She's not the person I would have expected. I'm astonished that she give up a seat in the Senate that she worked so hard for. Presidents tend to be their own Secretaries of State and so much of it ceremonial and she already did that as First Lady. But, we'll see."
Actor John Turturro, who played the program's host for the evening, was lingering by the bar, studying index cards with his assigned lines supplied by organizers of the event. Mr. Turturro complained of a sore throat, but was soon served a cocktail imitating absinthe, which seemed to help.
"I think it's very interesting that he wants to surround himself with people who are strong and good. That's what Lincoln did—he put his adversaries, people who were on the other side, into his cabinet," said Mr. Turturro. "I think his gift is that he is a mediator and I think he unfortunately he's faced with one of the hardest situations since Roosevelt. I know it will be very hard for him, but he is the only candidate I have ever campaigned for. He's a smart guy. He'll make his mistakes, but he'll be able to bring both sides to the table."
But the Brooklyn-born actor was not sensitive to possibly losing the New York Senator to Washington. 
"I don't consider Hillary Clinton a New Yorker," said Mr. Torturro. "I consider her a Senator from New York, but I don't consider her a New Yorker. She is from Illinois. A lot of people in New York aren't from New York, but she hasn't been here long enough for me to consider her a New Yorker."