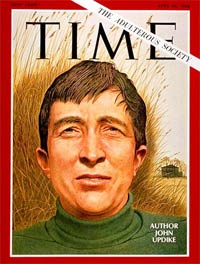 Yesterday, The Guardian's Alison Flood reported on the winners of this year's 'Bad Sex Awards,' which included John Updike for "Lifetime Achievement."
According to Ms. Flood, the award, which are given out by The Literary Review, was bestowed on Mr. Updike "after the American author realised the 'unique achievement' of four consecutive nominations for the award."
Ms. Flood writes:
Updike, famous for his close attention to sex, was shortlisted this year for his novel
The Widows of Eastwick
, in which an abundance of sperm greets the performance of oral sex. 'She said nothing then, her lovely mouth otherwise engaged, until he came, all over her face. She had gagged, and moved him outside her lips, rubbing his spurting glans across her cheeks and chin,' he writes. 'God, she was antique, but here they were. Her face gleamed with his jism in the spotty light of the motel room, there on the far end of East Beach, within sound of the sea.'
Mr. Updike did not appear at an event to receive his award, thereby sparing us his acceptance speech.
Related: Updike's Raunchy Witches.