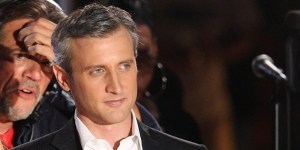 On Wednesday, Nov. 19, former MSNBC general manager and current NBC News chief legal analyst Dan Abrams announced that he was launching a "global strategy firm" that would assemble a network of thousands of working journalists, bloggers, authors, and ex-journalists and then use the collective media brain trust to consult deep-pocked individuals and institutions on various aspects of media strategy.
That same day, the firm launched its Web site. There, you can apply to become an "expert" for the firm by simply submitting your background information and by checking off your areas of media-related expertise, ranging from politics and sports to pharmaceuticals and video games.
Some five days later, The Observer was curious: Are journalists actually applying to become experts for Abrams Research?
As it turns out, yes and in droves.
On Monday evening, The Observer caught up with Mr. Abrams by phone. He said that, to date, some 650 people have already applied to become experts. According to Mr. Abrams, the bulk of the applicants are freelance journalists, people who are writing books, and individuals who have recently been laid off or walked away from jobs in the media industry.
"It's a mix of TV, on-line media, and print people," said Mr. Abrams. "I think it's somewhat equally weighted. Maybe a little bit more heavily toward TV. It's everything from household names to producers to bloggers to people who have started their own on-line media entities."
"That's not bad for five days," said Mr. Abrams.
He said that eventually he hopes to have some 20,000 experts in the database.
Recently, Jessica Pressler of New York Magazine and Ryan Tate of Gawker (among others) have questioned the ethical implications of hiring working journalists to moonlight in public relations and media consulting. On Monday evening, Mr. Abrams seemed a touch testy about the criticism.
"There's something a little bit offensive to me–as all these media organizations are cutting back so significantly on personnel–that people are out there saying, 'well Dan Abrams shouldn't be trying to help them find any work,'" said Mr. Abrams. "You know, give them a break."
While Mr. Abrams continues to assemble his armada of media consultants, he is also brainstorming about the myriad services Abrams Research might perform in the future. "We're thinking about media surveys," said Mr. Abrams. "I think down the road, we're going to be doing conferences. I'm still thinking of creative ways of harnessing all that talent and utilizing it."
For the time being, the company is keeping the identity of its applicants under wraps. Mr. Abrams said it will be a few more weeks before the firm starts advertising the names of its star experts.
"I can tell you there are people in our database who are on-air network news personalities, who I would describe as household names," said Mr. Abrams.
Which is perhaps not too surprising in light of the bloodbath that has been washing through newspapers, magazines, book publishing, web publishing, and broadcast television in recent months and, along the way, landing scores of talented journalists out of work.
Mr. Abrams reiterated that his firm has a larger purpose beyond simply providing a paycheck for victims of the ongoing industry contraction. "What is very important to know," said Mr. Abrams, "is that this is not an unemployment agency."