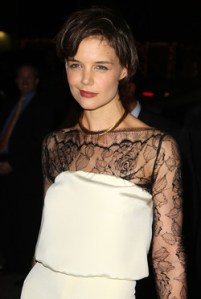 Transatlantic odd couple alert: According to the UK's Daily Star, imported socialite Peaches Geldof and Scientology captive Katie Holmes have totally connected (over what, exactly, is still unclear) in New York. Reportedly, Ms. Geldof so admired Ms. Holmes's turn in Broadway's All My Sons that she asked to interview the actress for Nylon, where she is a columnist of sorts. Either out of genuine interest in the budding fameball or just eagerness to escape the confines of her many East Village apartments, Ms. Holmes met the British 19-year-old for "afternoon tea" in a suite at the Rivington Hotel. Afterward, Ms. Geldof babysat Suri Cruise while Ms. Holmes reviewed scripts.
Citing the meeting, along with a planned appearance on Ugly Betty and a potential audition for the Sex and the City movie sequel as evidence, a source told the Daily Star: "It's very early days but it shows [Ms. Geldof] is being taken seriously in New York, something she didn't feel she was in London."
We're not sure how Brits define "seriously," but if the decidedly mixed reaction to her debut column in Nylon was any indication, the approval Ms. Geldof seeks might be a slow time coming. Of course, the public rarely has anything nice to say about socialite-penned columns commissioned by fluffy magazines, but Ms. Geldof didn't do herself any favors with gems like "America is a strange place, a place of contradictions, but a place that never fails to change one's world view."
We wondered, then, how bad exactly is her image across the pond?
We dug up a similar piece by Ms. Geldof, a March '07 contribution to The Guardian. In the column, she discusses her decision to purchase a tiny dog on her 18th birthday ("Truth be told, Snowy has brought out a maternal instinct in me I never thought I had. Maybe I'm more ready for this elusive adulthood than I thought. And it's always funny taking her to Subway and watching the stunned customers stare as I casually place her next to a same-size sandwich") and her discovery of and subsequent addiction to MySpace ("I vowed to take time off from my rapidly growing addiction, but, like a smoker who studiously applies patches to herself, the pull of the metaphorical MySpace cigarette was too strong").
Also in the MySpace bit: "At my boyfriend's he would beg me to watch Neighbours with him (our old favourite pastime) but I would dismiss him with a wave of the hand, browsing American housewives' profiles on his laptop until I fell asleep."
Does Tom Cruise know about his wife's socializing habits?
Guardian commenters were equal parts disgusted ("Surely the Guardian had something better on it's mind when it started than to play host to adolescent drivel. Someone please take responsibility for allowing this utter twaddle to reach the street") and receptive ("It's funny seeing all the stuffy wannabe-intellectuals "offended" by reading an article written by an intelligent young woman"). Maybe it's just British manners, but that reception looks downright friendly compared to the blog-thrashing she got over here.