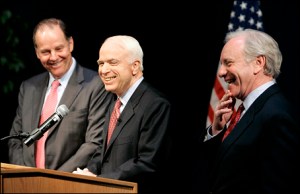 Former Gov. Tom Kean will not comment on whether he's been asked about or vetted for a cabinet position in the Obama Administration. But don't read anything into that.
"I don't comment on those things. I can't," said Kean, a Republican whose name surfaced in media reports both as a potential pick for Secretary of Education and for Department of Homeland Security Secretary (which is likely to go to Arizona Gov. Janet Napolitano).
Being vetted for a cabinet position is a tricky situation. If the administration has talked to you, you're not supposed to comment on it, and it's better to err on the side of caution and not say even if you have not been contacted about it.
"It's an elaborate dance," he said.
Kean spent 15 years as the president of Drew University in Madison, and earlier this decade served as Chairman of the 9/11 Commission.
Earlier this month, Gov. Corzine told PolitickerNJ that he would support Kean for the post.
But based on Kean's track record alone, he would not likely accept a cabinet position even if offered. He's turned down three posts from two past presidential administrations, both Democrat and Republican.
"I've never commented on it either way. I don't think it's fair to the White House," he said.