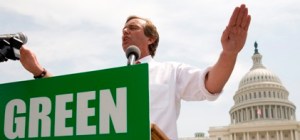 After a ceremony in Astoria this morning to rename the Triborough Bridge after Robert F. Kennedy, Bobby Kennedy Jr. said that he'd consider joining the Obama administration, and would "look at" replacing Hillary Clinton in the Senate if she leaves for a secretary of state position.
"You know what? I will be of service anywhere I can, inside or out," Kennedy, an environmental activist, told reporters when asked about joining the Obama administration. "Whatever happens happens. I'll be working with him in or out, you know, to try to transition off of oil and coal and restore the economy with renewables."
When I asked him about the possibility of replacing Clinton if she vacated her Senate seat, Kennedy tapped my arm several times, and said, "I got off the plane last night from two weeks climbing in the Himalayas with my wife. So, I haven't read a paper and I didn't even know Hillary was being considered for secretary of state."
When I plowed on, asking him if he'd like the seat, he said, "I don't know. I would have to look at it. I would have to see if it would work for me and my family. I've got six kids, all in school, so I've got a lot of considerations other than my own career."