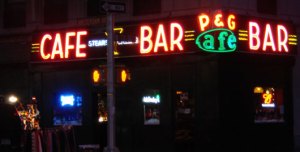 In just two years, jovial barkeep Steve Chahalis' signature black ponytail has turned almost entirely gray. Fighting to preserve an endangered family landmark amid a ravenous real estate market can do that.
"I have definitely made and lost friends," said Mr. Chahalis, 47, presiding over a neighborly Monday night crowd at the old P & G bar at the corner of Amsterdam Avenue and 73rd Street.
Mr. Chahalis' great-uncle Peter and grandfather George first lit up the ancient Upper West Side watering hole's iconic neon "Cafe Bar" sign back in 1942. ("My great-grandfather Peter gave them the money to open the store," he said.) Come 2009, the husky, fourth-generation suds-slinging scion will have to pull the plug.
Despite a petition drive that netted nearly 4,500 signatures in support of the old bar staying put, the landlord has refused to renew his lease, which expires on Dec. 31, in an ongoing attempt to land a more upscale, higher-paying tenant.
Mr. Chahalis now plans to reopen the 66-year-old neighborhood institution just a few blocks away, after signing a new 20-year lease on the former Evelyn lounge space at 380 Columbus Avenue; same familial name, same friendly service.
The question is, will anyone recognize it?
"They put a couple of dart boards in there and a couple of pinball machines, maybe even I would go," said retail broker Stu Morden of Newmark Knight Frank, who has the dubious distinction of being the listing agent for both the bar's existing and future locations. (Mr. Chahalis noted, though, that he arrived at the new space without the broker's help.)
Mr. Morden has yet to officially sign a new tenant to replace the old bar, long rumored to become a bank branch, albeit certainly not now, what with the current financial crisis and all. "We have a deal in the works," the broker said, without getting into specifics.
Adjacent spaces, formerly occupied by a deli and a pizzeria, have been leased to fancy chocolatier Jacques Torres and the high-end Italian eatery and specialty foods shop Salumeria Rosi. "We think that this particular store will add yet another nice dimension to that corner," Mr. Morden said.
MR. CHAHALIS, meanwhile, is cautiously optimistic about carrying on the family business on an entirely different corner, comforted by the fact that at least his old bar is expanding.
"I'm very psyched," Mr. Chahalis said of the new location, a sprawling, 4,300-square-foot subterranean space, which measures more than four times the size of the original, "But," he added, "I'm going to be on edge until everything works out."
Brushing aside empty bottles and setting his laptop computer atop the bar, Mr. Chahalis pulled up a blueprint of the new space and proudly outlined his vision for a more modern, somewhat less gritty P & G, with a stage for live music and even a full kitchen, which the existing so-called "bar and grill" actually lacks. Patrons currently quell their hunger pangs with tiny bags of Cheez-Its and Doritos hanging above the cash register.
"We're going to do steak and chops—like the sign has said forever," Mr. Chahalis said with a smirk. "We're also going to do burgers. I make these awesome teriyaki garlic-saffron-rubbed burgers. We're going to do chicken wings and legs. I make my own hot sauces. I make a buffalo sauce and a hot teriyaki. …"
The new venue will also have a more refined look than the previous stripped-down dive. One corner of the new L-shaped space, for instance, will feature a fireplace, chess tables and shelves of books. "I want to really do it up like a man's study in deep burgundy and walnut," Mr. Chahalis said, explaining, "On Columbus Avenue, you can't just open a shithole."