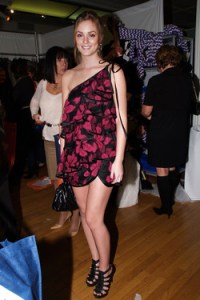 Economy, schmonomy! On a busy night for the stars of Gossip Girl, Leighton Meester and Jessica Szohr turned up at last Thursday's VIP shopping party that kicked off the annual credit card-fest known as Lucky Shops, sponsored by Condé Nast shopping rag Lucky. The Metropolitan Pavilion had been fashioned into an urban woman's dream: discounted shoes and bags, with a side of free ice cream and tiny French fries!  
"I'm hoping that my friends will say 'Yea' or 'Nay' and steer me in the right direction, because I don't ever get a chance to shop, so I'm probably going to go craaaazy!" said Ms. Meester, posing on the red carpet in a mini Marc Jacobs dress. "They're in there already. I'm doing this."
She had voted on Election Day, she said, but wouldn't reveal where: "I can't tell you, because that's close to where I live." We sensed she hadn't yet assumed New York-style Obamaphilia: "Um, I… think it went well?" she said, somewhat cryptically, of Tuesday night's results.
Sleek Lucky editrix Kim France was more revealing. "I liked it," she said, of Michelle Obama's controversial Narciso Rodriguez election-night sheath. "I like Michelle because she takes risks. She seems to know where to draw the line. I think that the woman who owns Ikram, the store in Chicago, is dressing her, and I've been to that store, and I think it says something interesting about her that she has that woman styling her clothes… I think she wants to bring something new to the White House in the role of first lady, as far as fashion goes."
Ms. France had partaken only partially in election-night revelry. "I went to hang out with some friends at their loft in TriBeCa-we got tacos from La Esquina, I waited up long enough to see Ohio and Pennsylvania turn safely blue, and when that happened I went to bed," she said. "And I was woken up by the sound of people going crazy in the street!"
However: "I watched Obama's speech online the next morning. I did the old person's version. Meanwhile my mother uptown stayed up for the entire thing with her husband-my mother is 71, her husband is 77-they watched the entire thing and went to Rockefeller Center afterwards. She said 'Well, honey, we don't have to get up in the morning!'"