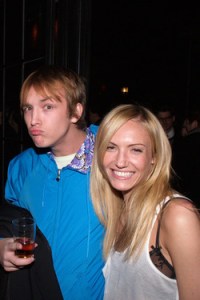 A downtown mix of artists and fashion-world people gathered at the Bowery Hotel Thursday night. Their excuse? ART ROCKS, a benefit for the Naomi Berrie Diabetes Center. It was said that Rolling Stone Keith Richards would be "toasting" his daughter Alexandra, an artist-model who had a piece in in the silent auction, but he never showed. (Alexandra's sister Theodora tottered in around 11, swaddled in an oversize striped sweater and scarf.)
A makeup-free Maggie Rizer, one of the evening's co-hosts, said the event was "all about incorporating young, up and coming artists with fashion—and I love fashion. If you don't support the young ones … Also, it benefits diabetes, which a few people in my family have." Rizer, whose father died of AIDS, is also working on a documentary on the subject, but said the project had been put on hold. "We're in the process of finding another production company."
The Daily Transom wondered if the current move away from conspicuous consumption-socialites finding it fashionable to stretch their salon appointments from every four weeks to every six!—might lead towards a dressing-down trend, but Rizer shot that theory down: "People tend to start dressing more expensively, I think … People in fashion tend to do the opposite, anyway."
The recession was the unescapable theme of the night—even the ladies in the powder room were atwitter about much of the same: "I'm going to have to sell my shoes!" one said, prompting an anguished "Noooooo!" in reply.
Photographer and flâneur John Norwood was there, like a friendly uncle, eager to talk.
"People will actually start partying harder, but less often," he predicted. "A bartender friend of mine said during the week, it's slower now. But on weekends, it's crazy!" (The working-class ethic of partying reemerges!)
"I have to wonder if the lifestyle we're used to is going to continue. This is my fourth event tonight and it's only, what time is it, 9 o'clock?"
Another reporter remarked that the crowd was rather "pushy" for a benefit—"like a bunch of linebackers." Indeed, the sound of wineglasses breaking would punctuate the rest of the evening. A cater-waiter confirmed that the second-floor ballroom was more crowded than it had ever been.
But wait—there was Ally Hilfiger, daughter of fashion designer Tommy.
"Yes?" the tiny brunette replied brusquely, peering over the rims of her huge black-framed glasses, and stepping back into her heels, which she had kicked off. Her hair was twisted into a messy, intellectual bun.
Of her art, she said, "It's broadened and developed." Her previous paintings featured various iterations on the number eight. "It's very different now—I spent four months by myself painting [in the Caribbean]."
And now? "I'm starting my own collection of women's clothing." Inspired by? "Everything!" she said with a grin. She conceded that the recession was "a very big trend … I watch CNN and listen to NPR all day, every day, while I work. … We need to learn how to adjust, no matter which background we come from. We have to be very loving and supportive to each other during this economic crisis."
Heavily bearded artist Michael M. Koehler had two pieces in the show, both photographs from New Orleans. Speaking of hard times!
"The first wave of photography I saw from New Orleans—it was all these images with no people in them," he said. "I wanted to show that people's day-to-day struggles can be as beautiful as that image of a car up in a tree." One of his works, a 6-foot-high photograph, showed a stoic black man standing inside his post-Katrina house, with the high-water marks somewhere near the ceiling.
The show also included a cheeky work by Thomas McDonnell titled "Caucasians on Clinton Street Chewing Khat," clearly a comment on the street's gentrification.
Young Liam McMullan, in a lime green T-shirt, surveyed the scene from the back of the room. He had just written his first column for Page Six Magazine, a surprisingly funny, dry-humored scenester report. How's the editing process going? "Well, they dilute my snark and replace it with a little bit of douchebag … but that's O.K."
Towards the end of the evening, it was announced that the benefit had raised over $150,000. As if on cue, another wineglass fell to the floor and shattered.