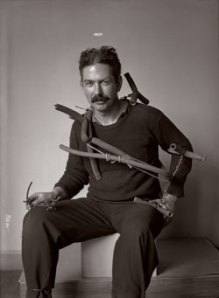 The American artist Alexander Calder (1898-1976) is best known for his mobiles—hanging sculptures fashioned from impeccably poised lengths of wire and thin metal plates, usually colored black and red. Taking direct inspiration from Miró, Calder distilled the Catalan master's biomorphic vocabulary to the point at which Surrealist portent became happy caprice. The mobiles don't need wind currents to set them into motion; they're already lighter than air.
You'll see Calder invent the mobile at roughly the midpoint of "Alexander Calder: The Paris Years; 1926-1933," an exhibition at the Whitney Museum of American Art. It was a transformative moment prompted by a move to Paris. Upon arriving in 1926, Calder delighted in the city's convivial atmosphere and often saucy entertainment—the performer Josephine Baker was a favorite. Calder ingratiated himself with luminaries like Miró, Léger, Man Ray, André Kertész and Mondrian.
A trip to the Mondrian's studio was life-changing: "This single visit gave me a shock … I wanted to paint and work in the abstract." The resulting paintings are humdrum reiterations of neo-Suprematist principle. But then there are the sculptures: looping tabletop armatures, all sprung wire, wooden spheres, motors and balance—always that delicately calibrated balance. The excitement inspired by Mondrian is palpable. Calder's light bulb goes off; our hearts start beating faster.
And then it's downhill from there—or so "The Paris Years" suggests. It isn't because the gravity-challenged pieces in the final gallery disappoint. It's because the work leading up to the mobiles evinces a facility that's almost alarmingly preternatural. When an artist makes a medium his own—discovering its peculiarities, possibilities and how it becomes congruent with individuality—it's a revelatory moment. But wire for Calder? It's as if it had forever been waiting for him. There's no revelation here—just magic gleaned from the ether.
"The Paris Years" begins with a dizzy and seemingly insurmountable introduction: A stellar array of portrait heads. Friends, artists, celebrities and Herbert Hoover—they're caricatures given uncanny dimension. "Drawing in space" is a shopworn Modernist trope typically applied to Constructivist sculpture, but Calder's wire caricatures are the real deal. Jennifer Tipton, whose regular gig is lighting for the theater, has done a superb job emphasizing this aspect of Calder's art. The portraits don't cast shadows; they reveal facets—often more profound than we might expect from this artist—that otherwise might have remained unknown.
The remarkable thing about Calder's wire pieces is how they address volume.  These are sculptures in the round. They encompass and encapsulate space with breathtaking speed and ease: Jimmy Durante's shnoz, Josephine Baker's breasts, acrobats in midair, a pot-bellied bobby and a monkey-limbed John D. Rockefeller playing golf are all bodies. Calder may have employed diagrammatic means, but he made the insubstantial monumental. In not altogether surprising ways, the work recalls that of Rodin.
Gesture, too, is unerringly put into place: the forward trot of The Hostess (1928) betrays her snobbery. But notwithstanding its softball acidity, the sculpture is indicative of Calder's defining graces: Sociability and showbiz. Playing to the audience powered his fancies and his sense of invention. Calder delighted in the circus—yes, the Whitney's mainstay Calder's Circus (1926-31) is here—not least because it was a metaphor for his own temperament, strengths and vision. He thrived on applause.