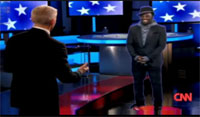 Felix Gillette looks at CNN, which might want to rename itself The Corpulent News Network.
How did the story of Hillary Clinton as Secretary of State appointee begin? John Koblin traces the story as it made its way from NBC's Andrea Mitchell to every other media outlet imaginable. "It has unspooled in a confusing way," Politico reporter Ben Smith says.
Leon Neyfakh meets Carrie Kania, the publisher at Harper Perennial, "the small but proud paperback unit of HarperCollins that she has lovingly presided over since the fall of 2005."
Plus: Candy Pratts Price… Big Shake-Up at New York Tech Meetup… Malcolm Gladwell.