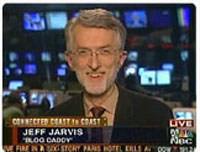 What should media organizations do to survive? "We should embrace change," Jeff Jarvis tells John Koblin. "Instead, too often we fight change. That's the nature of organizations and institutions that hold power. Change might mean losing power. The great and magnificent irony of online—this would really send [Ron] Rosenbaum's spine up—is that in my blog, in what I call Jarvis' Law, is that I say if you give people control, we will use it. If you don't, you lose us. The counterintuitive way of the Internet age is when you give up control, you win. The old way was to maintain control to win."
Speaking of change, which current and former journalists want to become flacks for Dan Abrams' new venture? According to Felix Gillette, "Less than a week after he announced he was launching a 'global strategy firm' that would assemble a network of thousands of working journalists, bloggers, authors and ex-journalists, he was drowning in applications."
And yet more change. Leon Neyfakh writes, "Though prayers this week should undoubtedly be with the editors of Houghton Mifflin Harcourt, who were told a few days ago by their CEO that they can no longer afford to acquire new books, it should not go unremarked that editors at other houses are being forced to give up something almost as essential: lunch!"
Plus: It's Living Room 2.0… Vegetables Are the New Meat… Mark Bittman