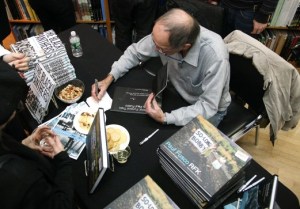 How much of the photographer's art is catching a break and knowing what to do with it? On June 8, 1968, photojournalist Paul Fusco rode the funeral train carrying Robert F. Kennedy from New York to Washington DC. Fusco, then working for LOOK magazine, had been assigned to cover R.F,K.'s funeral at St. Patrick's that morning and, later, his burial at Arlington Cemetery. As the train pulled–slowly, slowly–out of Penn Station, thousands of mourners gathered on the train platform and alongside the tracks.
Fusco spent the next eight hours (measured out in something like 60 rolls of film) photographing the crowds. A book of photos from that day, Paul Fusco: RFK, was recently republished by Aperture. On Friday, the Observer had a chance to speak to Mr. Fusco at a talk and book signing at the National Arts Club.
What was it like that day?
"I was on the train thinking about how I was going to photograph the funeral, 'How can I maneuver a good shot?'" Mr. Fusco said. "The first thing I saw was the thousands of mourners out of the tunnel. My reaction was 'Photograph it.' I jumped up and walked across to the window, opened it, stood there for eight hours and didn't move."
Forty-years later, it seems clear that Fusco caught a cross-section of America that day, in a kind of national vigil. Kids sit raised on their parents' shoulders, trying to catch a glimpse of the great man as he passes by. Whites and blacks stand peaceably together in a rare (that year) moment of calm. Some of the photographed are seen holding their hands over their hearts. Others salute. One woman holds up a homemade sign: 'SO-LONG BOBBY."
Fusco had to work fast that day. Giving the speed of the train, the photographer had only one chance per photo, and no chance to adjust the camera's focus. He took over 2,000 shots, and it may be that the best image, according to Fusco, is one he nearly botched: a family of five, lined up by size along the tracks, that he could barely fit inside the frame. You can view a selection of Fusco's photos from that day in 1968 at his website.