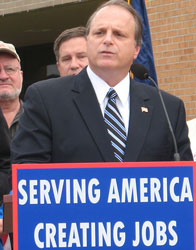 ALBANY—Eric Massa, who is mounting his second challenge against Representative Randy Kuhl, has not yet declared victory, despite a 4,000 vote lead.
In a conference call with reporters, Massa campaign manager Justin Schall said that with 11,169 absentee ballots received but not counted (about 4,500 more were mailed), Kuhl would need win by a 3-to-1 margin to take the election.
"We fully expect that those 11,000 will break exactly the way the results of the general election broke, and it will increase our margin of victory," Schall said. "I believe it is a statistical near-impossibility for Randy Kuhl to win."
(There was no immediate response from the Kuhl campaign.)
Kuhl has not conceded the race for the district, which stretches over eight counties from Rochester to the Southern Tier. On Wednesday, his lawyers gained an injunction to impound all absentee ballots until a hearing next week where a judge can decide on an orderly process for counting them.
"We are hoping for the best, but the judge will make the decision and we will abide by it," Schall said. "We certainly hope that this can be expedited and we can get through this process as quickly as possible."
Kuhl, a former state senator, was first elected to Congress in 2004. Massa, a naval veteran, gained 49 percent of the vote in 2006 on a shoestring campaign and has been supported by the Netroots community online.
Kuhl was endorsed by the Rochester Democrat & Chronicle and the Elmira Star-Gazette. Shortly before the election, Politico reported that Kuhl's name was on a G.O.P.-circulated "goners list."
Schall said Massa will travel to Washington next week to attend an orientation session for newly elected representatives.