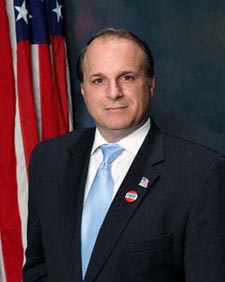 ALBANY—Presenting himself as a Congressman-elect, Eric Massa will this morning make "an important announcement about the results of the election" in the 29th Congressional District at his campaign headquarters.
Massa is widely expected to declare victory today. Many news organizations called the race for him on election night, but a recount of absentee ballots has persisted until today. Asked if that was the intention, campaign spokesman Jared Smith said, "I can't confirm anything yet."
The candidate will speak at 11 a.m. A conference call for out-of-district reporters is scheduled for 11:45 a.m.
Massa, a Navy veteran who also ran against Republican incumbent Randy Kuhl in 2006, has been consistently ahead by about 4,000 votes. A district-wide re-canvass and supervised count of absentee ballots have done little to erode those numbers, and even Republican officials in the district have accepted that Kuhl was defeated.
But he has not yet conceded the race, insisting that every vote should be counted. Massa, meanwhile, has been acting like an elected representative in the weeks since the election.