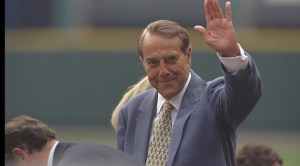 For a man who often found himself likened to Bob Dole during the presidential campaign, it's only fitting that John McCain will make his first post-election appearance on a late-night comedy show.
McCain is scheduled to appear on Jay Leno's "Tonight Show" tonight, a move that calls to mind Bob Dole's visit to David Letterman's "Late Show" just three days after losing the 1996 campaign to Bill Clinton.
Dole had actually informally declared his candidacy on Letterman's show in early 1995 – "Yeah, I'm gonna run," he admitted as the host prodded him – but grew irritated during the campaign as Letterman savagely mocked his old age (73 on Election Day) night after night. So it was something of a surprise when Dole agreed to stop by on the Friday after the election.
And what a smart move it was. Dole had long been known in Washington for his dry self-deprecation, but his humor never translated through television during the campaign; all most Americans saw was a dour, gruff old man – the guy who fell off a stage in California and talked about "the Brooklyn Dodgers." (Many also remembered watching him growl at George H.W. Bush to "stop lying about my record" during their 1988 G.O.P. primary campaign.) But the Dole who sat down on Letterman's couch was full of punchy one-liners, showing a comedian's knack for turning every question into a quip.
"Bob, what have you been doing lately?" Letterman asked, upon introducing Dole.
"Apparently not enough," came the reply.
A full transcript of the appearance can be found here. (I searched in vain for a video clip.)
The Letterman appearance launched an unexpected second career for Dole, who had resigned his Senate seat in the spring of '96 and found himself unemployed after the election. His good-natured, lovable loser persona caught on. A Super Bowl ad for Visa – in which Dole returns to his hometown, only to find the locals unwilling to take a check from him – was cut and appearances on other talk shows and even a few sitcoms followed, as did a book of political humor. When he appeared on NBC's Meet the Press in November 1997, a year after his lopsided defeat, Dole was told by Tim Russert that he had become the most respected political figure in the country.
As a presidential candidate, Dole never caught on, and his campaign is justifiably remembered as one of the most aimless and least inspiring of the modern era. But in defeat he finally got his due as a genuinely funny and decent person – and his Letterman appearance played no small role in it. That's probably the same effect that McCain, who adopted an angry personality this year that masked his better nature, is aiming for right now.