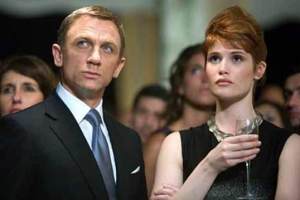 It was quite a crowd at last night's midnight screening of Quantum of Solace at the Ziegfeld Theater. Perhaps the most intriguing moviegoers were the block of young, floppy-haired men who arrived wearing natty tuxedos and British-looking umbrellas–midtown caterers fresh off their shift or James Bond enthusiasts? Either way, we suspect the booze they were drinking throughout the film was neither shaken, nor stirred … just sneakily sipped from a flask from under the seat.
But wow, the previews for this thing! It's fascinating to see what Hollywood thinks of the audience who has chosen to see the 22nd James Bond film: first up there was the Will Smith Pay it Forward-looking Seven Pounds. Audience reaction was muted, it's a drama, no action … no connection. However, then we got to Angels & Demons, the sequel to 2006's Da Vinci Code, with shots of angry gargoyles and Tom Hanks's big face … the crowd cheered. We couldn't believe it! Plus they have to wait till next May!
Next up was June 2009's Fast & The Furious, an installment with Vin Diesel, that seems to be approaching Bondian proportions, and we're not clear on how they get away just using the same title with little variation over and over again, but we're guessing it's the only time a crowd will whoop when the name "Paul Walker" flashes onscreen (sorry, it's true). Everyone went nuts when the Star Trek trailer (May 2009) ran … all we could think about was how weird Zachary Quinto looked in those Spock ears.
And then, there was some seriously bad news for Tom Cruise. When Mr. Cruise first appeared in the Valkyrie trailer, there was an instantaneous chorus of giggles. Double that for when he's wearing the eye-patch. Yikes. The last preview was an interesting fakeout, as it's for Edward Zwick's Defiance, based on the true story of the Bielski brothers, who helped save Jews during World War II. Daniel Craig, a.k.a James Bond, stars (how he keeps getting cast as Jewish we'll never understand), and when his handsome face appeared, the crowd boisterously cheered, with one young gentleman even going so far as to say "I want to have your babies!" This was all a split second, of course, before everyone realized this was a Holocaust movie and respectfully piped down. Anyway!
Quantum of Solace, as has been noted by critics, is an interesting stop in the Bond series. 007 hasn't quite gotten to the smooth-operator status we grew up with, but Daniel Craig sure makes fighting rough and dirty awfully sexy. But painful! We think we actually heard his bones crunching a few times in there. And wow, does he look good in a suit! And casual wear! He is a great James Bond, though awfully broody in Quantum of Solace. We were entertained by the film's many (many) action sequences (this is kind of like an action porno, where you feel like the backstory and dialogue is just filler for the real thing) though to be honest, we still aren't clear on the plot points; what exactly Jeffrey Wright's role is in this thing besides to look smart; and we have noooo idea what's up with that title. Does it really matter? We're not sure. The crowd left happy.