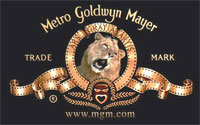 YouTube has courted its first studio to offer feature-length films on the site. It's MGM, the 84-year-old film empire with financial troubles. They're looking to pick up hundreds of millions of viewers on YouTube's site, especially the young ones.
More from The New York Times' Brad Stone and Brooks Barnes:
Metro-Goldwyn-Mayer Studios will kick off the partnership by posting episodes of its decade-old 'American Gladiators' program to YouTube, along with full-length action films like 'Bulletproof Monk' and 'The Magnificent Seven' and clips from popular movies like 'Legally Blonde.' These will be free to watch, with ads running alongside the video.
The initial lineup may not be all that compelling, but for YouTube, which is owned by
Google
, the relationship with MGM is a crucial step in an essential reinvention. YouTube had its debut in 2005 and quickly became famous for the democratic sharing of bite-size video clips. Users love the site — 81 million people visited in September alone, according to Nielsen.
The best part of the article is this quote, from James L. McQuivey, an analyst at Forrester Research: "YouTube is essentially saying to media companies, 'We are sorry for our past copyright stance; we weren't thinking big enough. Let's see how we can make some money together.'"