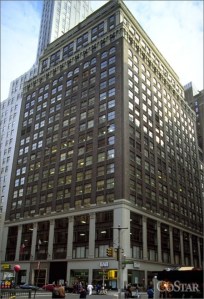 A one-time security guard at 1440 Broadway has filed a lawsuit in federal court charging landlord Monday Properties and its security contractor, Mulligan Security, with "unlawful discrimination because of his race and/or color, as well as to unlawful retaliation."
Monday Properties said in a statement that it found the allegations "completely unfounded and untrue."
Godfrey Williams, the plaintiff, named Mulligan executive vice president Kevin Mulligan, Monday Properties property manager Wayne Kohlbrecher, and Mulligan Security account manager John Llano as defendants.
Mr. Williams, African-American and from Brooklyn, worked as a security guard from 2003 until mid-2007, ultimately serving as site supervisor and deputy fire safety inspector. He dealt most frequently with Mr. Kohlbrecher, who is described in the lawsuit as behaving like a modern-day fascist.
Among the claims contained in the lawsuit, provided by the plaintiff's attorney:
Every day, Mr. Kohlbrecher greeted Mr. Williams with a "Heil Hitler" salute, was prone to referring to the security staff as "sambos" and "chimps," and liked to refer to 1440 Broadway as his "plantation."
"[O]n one occasion when Defendant Kohlbrecher got upset with a security officer, he called Mr. Williams up to his office and started yelling, saying, "This is my fucking plantation! I run it like I want to because I can crack a mean whip, I can cut the flesh from the bone. I heat a hot oven. I like the smell of flesh.' Shocked, Plaintiff asked Defendant Kohlbrecher what he meant. In responde, Defendant Kohlbrecher told Mr. Williams not to worry, that it was just the 'German' in him, making clear he was referencing the Holocaust ovens used in concentration camps."
Monday Properties spokesman Stefan Friedman disputed the substance of the lawsuit: "Monday Properties takes these allegations very seriously and does not tolerate any kind of discrimination in our organization. With that said, we have investigated these allegations previously and found them to be completely unfounded and untrue. We will rigorously defend our case and look forward to clearing our name."
The full release is below.
BLACK SECURITY GUARD REFUSES TO BE SILENCED BY RACISM* * * *NEW YORK – November 10, 2008 – Today, Godfrey Williams, a Black former Site Supervisor and Deputy Fire Safety Director, filed a lawsuit in the United States District Court for the Southern District of New York charging Monday Properties, a Manhattan-based real estate investment firm with race discrimination and retaliation. Mr. Williams, who was subject to repeated racial epithets and other offensive and racist comments, will be holding a press conference today to discuss his shocking experience.
Mr. Williams worked at 1440 Broadway, the location of companies such as Google, Primedia, Condé Nast, and Liz Claiborne. As the complaint explains, throughout his employment, he was subject to racist remarks on a daily basis by Wayne Kohlbrecher, the Building Manager at Monday Properties, and John Llano, the former Account Manager at Mulligan Security, all of whom are named as Defendants in the complaint.
Thecomplaint alleges that the racist comments included: -Mr. Williams being told by Mr. Kohlbrecher, "This is why you are here . . . Idon't want these f**king spics, sambos, chimps coming up here!"-Mr. Kohlbrecher greeting Mr. Williams with a Hitler salute, saying "Heil Hitler."-Messrs. Kohlbrecher and Llano regularly referring to Mr. Williams as "sambo."-Mr. Kohlbrecher telling Mr. Williams, "This is my f**king plantation! I run itlike I want to because I can crack a mean whip, I can cut the flesh from the bone.I heat a hot oven. I like the smell of flesh."-Mr. Williams being told by Mr. Llano, "We don't owe you Black peopleanything. You need to understand that when we throw you people a bone, you should be grateful."
Unfortunately, just one month after submitting a formal written complaint, in which he detailed the abusive and racially hostile work environment in which he was forced to work, Mr. Williams was abruptly terminated because he was not "playing along" and too "thin-skinned" for the job. Recalling his experience, Mr. Williams explains, "It was an especially degrading experience because it was made clear to me that I was not a human being. It is my hope that through this lawsuit Monday Properties and Mulligan Security will no longer be permitted to treat others the way they treated me because of my race."
Douglas H. Wigdor, a partner at Thompson Wigdor & Gilly who represents Mr. Williams, added "It is disturbing that in the 21st century Mr. Williams was forced to endure blatant racist behavior. We will aggressively pursue justice for Mr. Williams and hold the companies and the individuals involved accountable for their actions."