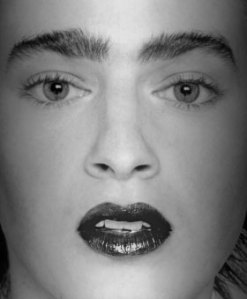 Down in the subterranean cool of Bergdorf Goodman's cosmetics department, you'll find a modest patch of paradise presided over by makeup artist Edward Bess. At 20, he became the youngest person ever to have a line carried by the venerable department store.
Like Bobbi Brown and Laura Mercier before him, Mr. Bess, now a geriatric 22, is building his brand with lipstick: a dozen silky shades with suggestive names like Night Orchid, Pure Impulse and Natural Seduction. They are not lurid or flashy, but rather better versions of our natural selves: deep peaches and pinky browns, a red here, a rust there. Should you desire, he'll apply a "nude" look to you with his own elegant hand, perhaps daubing one of his five glosses on top, setting you up for day's turn into night.
"I wanted to create something for women to wear that wouldn't go out of style, that would remain modern. Something women won't have to second-guess next season," Mr. Bess said recently over tea at BG restaurant. He was in his element. Late-lunching ladies repeatedly glanced his way, and at one point a fan stopped by to exclaim, "We must stop meeting like this!"
Then again, it's hard not to look at Mr. Bess, who has enormous, doe-ish blue-green eyes, a puff of brown hair, elegantly bushed eyebrows and absolutely insane cheekbones. In his slim, tailored black suit; a crisp white shirt unbuttoned just so to reveal a flash of smooth ivory skin; and shiny black shoes, he resembled Robert Palmer, circa Addicted to Love. "Don't be offended the next time you see me," Mr. Bess said. "I'll be wearing the exact same thing."
Behind closed doors, he's his "own guinea pig," as he puts it, testing and trying on various shades he's conceived after a night out, or a day in his studio. But during daytime hours, it's women he wants to help shine. Mr. Bess grew up in Charleston, S.C., and his current career is very much influenced by a childhood swathed in femininity. "I just loved watching my mother get made up when I was little, and the glamour of going out," he said. As an adolescent, he'd "direct" his mother and three sisters in how to put together a look.
He moved to New York at 15 to attend the Professional Performing Arts School for theater, and then moved to London after graduation. After a year, he said, "I returned to New York after modeling in London wanting to share my vision for women." At 18, he began developing his first lipstick shades, inspired by ballet and opera, the work of Philip Johnson, Brigitte Bardot in And God Created Woman. He showed them to the powers that be at Bergdorf's, et voilà! He had a home. Though he lacks a detectable accent, Mr. Bess oozes an effortless Southern charm and ease that fits in perfectly with the pomp of the place, which also stocks his eye shadows, mascaras and powder.
Part of the pleasure of the line is in the luxuriously minimalist packaging. Mr. Bess prefers a "smoky eye," and his shadows, in varying hues of blacks, grays and browns, are each embossed with the makeup artist's name and pressed into a tiny black wood-grain box, itself held in a suede pouch. The lipsticks are encased in black lacquered tubes that satisfyingly snap shut, and the glosses contained in four-sided glass tubes even Frank Lloyd Wright would find irresistible. Lightly scented with wild fig, they can be purchased in a 15-piece set called "Lip Wardrobe" for $350.
Or you can try to stop at one. Mr. Bess's best seller? The rougey Deep Lust. "I have young girls and grandmothers who want Deep Lust," he said with a laugh. Don't we all, honey—don't we all.
PHOTOGRAPH Ruven Afanador