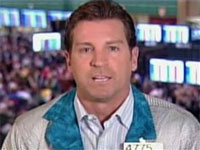 Executives at the Fox Business Network announced today that Eric Bolling will be joining Cody Willard and Rebecca Diamond as the co-host of Happy Hour—FBN's breezy, after work business-lite show, set in the Bull & Bear bar at the Waldorf-Astoria Hotel.
"Happy Hour is a dynamic show that takes the headlines and market reactions and turns them into useful and intelligent information," said Mr. Bolling in a press release. "I am excited to take on this new role as co-host."
Presumably, Mr. Bolling will also be excited to interview the wide range of business leaders who appear on the show. Past guests have included skateboarding legend Tony Hawk and porn star Savannah Samson.
Last time we wrote about Mr. Bolling, a high-rolling commodities trader-turned-charismatic talking head, he was battling in court to get out of his contract with CNBC and, um, sending emails to the wrong Kevin (see second item).