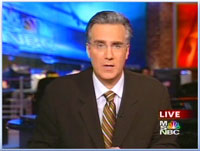 MSNBC President Phil Griffin announced today that the cable news channel has extended Keith Olbermann's contract through 2012.
In February of last year, MSNBC and Mr. Olbermann reached an agreement that would keep the Countdown host under contract through 2011.
The new agreement would seem to extend Mr. Olbermann's commitment to MSNBC through the 2012 presidential election.
"Keith Olbermann is at the core of MSNBC's current success," said Mr. Griffin in a press release today. "'Countdown' is our signature program and I'm thrilled that we're going to be able to bring it to Keith's loyal viewers for another four year term."
"I'm delighted that we can continue to lock Countdown into the nation's political dialogue through at least the next election," said Mr. Olbermann in the press release.
"Personally, I noticed that as of about six weeks ago, I'd been doing this show longer than I did SportsCenter, so it's delightful to have a true home."