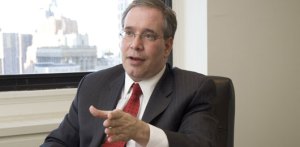 It was a rough two hours for MTA board commissioners this morning: tears and tongue lashings in public testimony followed a budget presentation that confirmed all of their worst fears.
"I think I speak for all the board members when I say, 'Wow,'" said Chairman Dale Hemmerdinger after hearing the full slate of proposed cuts.
Without specifying the amount of a fare hike for New York City transit—besides a jump in express bus fare from $5 to $7.50—the 500-odd-page budget proposal includes a raise in "yield" of 23 percent, factoring in resulting reductions in ridership. Significant cuts include 2,269 jobs; the Z and W subway lines (with some corresponding line extensions to compensate); the entire station customer assistant program; and weekend service on 37 bus routes.
The board won't take a final vote on its proposed budget for 2009 until its next meeting in December. But the proposal's fare hikes and route cuts, leaked a few days ago by the Daily News, already had people hopping mad.
First up to take a turn at the whipping post, before the full budget had been distributed, was Manhattan Borough President Scott Stringer.
"The proposals I believe you're going to announce today are not the ones I was hoping for; I was looking for big, strong, revenue-generating proposals," he said, deviating from prepared remarks.
"What you didn't talk about is getting the people outside the city to contribute to the city they use every day," Mr. Stringer continued. "Someone's got to go to our suburban brothers and sisters, and shake them, and say, 'If New York City goes down, the whole state goes down.'"
The public viewing section filled early to capacity, with people spilling into overflow rooms two floors down. Shouts from the audience derailed MTA executive director Elliot Sander's delivery of his sobering news, and one agitator had to be removed by security.
Speeches before the budget presentation came from your typical testifiers—the Straphangers Campaign, the Amalgamated Transit Workers, the Empire State Transportation Alliance—and a few public hearing characters, featuring allegations of corruption, a Mr. X, and a woman who broke down at the stand.
"How am I supposed to be a good mother?" she said, drawing sympathetic glances and applause. "If fares are increased, how am I supposed to get food to eat? How am I supposed to get clothes to wear?"
Commissioners expressed frustration at the position they've been put in by the state, with no ability to change a financing structure supported by revenues from a depressed real estate market (although City Councilman Larry Seabrook spent several minutes proposing a 30 percent sin tax on alcohol and cigarettes to make up for the shortfall).
"I don't believe it's the MTA's fault. We were doomed from the start," said Commissioner Jeffrey Kay.
"This place is structurally set up to stick it to the rider," added nonvoting member James McGovern.
The proposal pushes all fare increases off until June, Mr. Hemmerdinger emphasized, leaving time for elected officials to come through with a bailout.
Long before the meeting, protesters had lined up peacefully outside the Authority's Madison Avenue headquarters, holding "Bail out the People!" signs left over from protests on Wall Street about the bank bailouts. In their minds, it's all connected.
"It just seems like the banks are getting all the money right now," said Leilani Dowell, 31, an administrative assistant at NYU who lives in Bay Ridge. "Why are the people always called upon to make these sacrifices?"