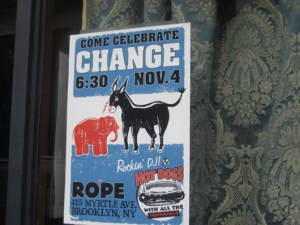 Within a four-block span on Myrtle Avenue, there will be three election parties. They're all fun places. It's a stretch just west of Pratt. Their ads (attached) feature varying levels of coyness about loving Obama.
Rope (pictured above)– 415 Myrtle (between Vanderbilt and Clinton). I called, and they said the hot dogs will be cooked out in the garden and free. There's going to be a DJ and TVs updating the crowd. Also, I like their bartenders.
Chez Lola– 387 Myrtle (between Clermont and Vanderbilt). Kitchen will be open until the "wee hours." 
Maggie Brown– 455 Myrtle (at Washington). Bet on swing states for free shots.