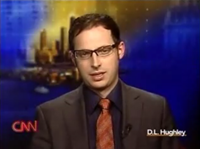 Thirty-year-old polling wiz Nate Silver, who became a star during the 2008 election with his Web site FiveThirtyEight.com, is looking around for a book deal.
Mr. Silver's statistical skills were ratified when the outcome of the presidential race aligned almost exactly with his final predictions both for the popular vote and the Electoral College breakdown, and thanks to the exposure he received during the past six months on MSNBC, CNN, and Fox News (as well as in Newsweek, New York, The New York Times, and numerous other publications), publishers in New York are eager to get him under contract as soon as possible.
Mr. Silver's agent, Sydelle Kramer of the Susan Rabiner Agency, is giving them their chance this week, having sent out a brief proposal with instructions to indicate interest by Tuesday.
According to someone who saw the proposal, Mr. Silver is looking to write two books. The first is a Freakonomics-style guide to politics that answers questions like "Is there really a Bradley Effect?" while the second is on the art of prediction, a book that will draw on interviews with people who have to predict things for a living. In his proposal, Mr. Silver spent two pages describing each book.
Expect an update when Mr. Silver's book finds a home.