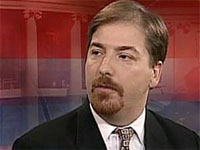 NBC Political Director and on-air analyst Chuck Todd and his colleague, the polling expert Sheldon Gawiser, are rushing to put together How Obama Won, a state-by-state guide to President-elect Barack Obama's victory that will be published as a paperback original through Knopf's Vintage imprint sometime before the inauguration in January.
According to editor Errol McDonald, who approached Mr. Todd with the idea about a month before the election, the book will be divided into four sections: Battleground states, emerging battleground states, receding battleground states, and all the rest. Mr. McDonald said the book will come with an introduction by Mr. Todd and Mr. Gawiser (who is NBC's Elections Director) and an appendix that will "give very surprising facts based on the data."
Mr. McDonald said the book would have happened even if the outcome of the election had been different.
"It'd probably be called How Barack Obama Lost," Mr. McDonald said. "But needless to say, the data's the data."
Mr. McDonald said the initial print has yet to be determined, but will be "not unimpressive."
The deal with Mr. Todd and Mr. Gawiser was brokered by independent literary agent Matthew Carnicelli, and finalized about two weeks before the election.